Esteve appointed to national subcommittee of President's Council of Advisors on Science and Technology
Louisiana Tech University alumna Savannah Esteve (biomedical engineering, '20) has received a national, yearlong appointment to the United States President's Council of Advisors on Science and Technology (PCAST). As a member of PCAST's Students, Post Doctoral and Early Career Professionals Subcommittee (SPEC), Esteve provides input into how to improve science, technology, engineering and mathematics (STEM) education.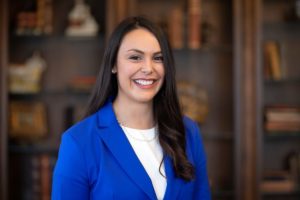 PCAST was created several decades ago and serves to advise the President on science, technology, education and innovation policy. The Council also provides the President with scientific and technical information that is needed to inform public policy relating to the economy, national security, and other topics. Members include distinguished individuals from sectors outside of the federal government who have diverse perspectives and expertise in STEM.
"This is a once in a lifetime opportunity to influence the future of the STEM fields," Esteve said. "I am excited to provide my perspective based on my experiences and background to help improve the accessibility and diversity within the STEM fields for future generations."
"It was my honor to nominate Savannah Esteve to serve on the PCAST SPEC subcommittee," said Dr. Katie Evans, associate dean for strategic initiatives at Louisiana Tech's College of Engineering and Science and national Grand Challenge Scholars chair. "During her time at Tech, Savannah repeatedly demonstrated strong technical skills coupled with a drive to apply her knowledge and understand the broader impacts of her work. Savannah possesses excellent leadership abilities and a passion to serve society. She is an outstanding choice for the SPEC subcommittee, and we are proud to have a Louisiana Tech alumna representing our country for this critical work."
"Savannah is such a great representative of our program," added Dr. Heath Tims, associate dean for undergraduate studies at Tech's College of Engineering and Science. "While an undergraduate student she was always very involved in all aspects of our college and campus life. It is exciting to see her use the experience she gained here to help influence the future of Science and Technology for the country."
While at Tech, Esteve was student leader, serving as an ambassador for the College of Engineering and Science, where she helped improve recruitment through campus tours and virtual outreach, a tutor at the Bulldog Achievement Resource Center, where she helped her fellow students grasp theories and methodologies in chemistry, mathematics and physics and a research assistant for Dr. Bryant Hollins, during which she developed a microfluidic-based platform for the detection of methylglyoxal-adducted proteins, verified and validated platform functionality and won state-wide oral and poster presentation competitions. She was also a Grand Challenge Scholar, a Tau Beta Pi Engineering Honor Society officer, a member of the Alpha Eta Mu Beta Biomedical Engineering Honor Society, Philanthropy Chair of Kappa Delta Sorority, and President of Louisiana Tech's Engineering and Science Association.
Esteve attended the Global Grand Challenges Student Collaboration Lab and Summit in London, England in September of 2019. She also represented Tech's Engineering and Science Association and the Southeast Region as Regional Ambassador for the National Association of Engineering Student Councils and planned the Southeast Regional Conference that Louisiana Tech hosted last fall.
In addition to receiving her BS in Biomedical Engineering, Esteve earned a Six Sigma Black Belt with the University.
"Ms. Esteve is one of our great GCSP graduates," said Dr. Leland Weiss, Louisiana Tech GCSP advisor and director of civil engineering, construction engineering technology and mechanical engineering. "Over the years she's worked with international student teams, been part of cutting edge research, and has always been a leader on our campus and in the GCSP. It's great to see her continuing to make a difference well beyond the campus."
Esteve has applied her experiences and perspectives at Louisiana Tech to serving others and improving people's lives in the global medical device industry. She is currently a Human Factors Engineer at UserWise, Inc., where she is focused on helping medical device manufacturers apply usability engineering to their design process.
"Louisiana Tech fostered my desires to serve the community, gain valuable technical skills, and diversify my perspective on the STEM fields," Esteve added. "During my time at Tech, I was able to collaborate with diverse groups of people on challenging, hands-on projects and undergraduate research."