Teams pitch ideas for 2020 TOP DOG event
Louisiana Tech student teams pitched their new product or service ideas to judges during the 2020 TOP DOG Idea Pitch sponsored by the Center for Entrepreneurship and Information Technology and Bulldog Entrepreneurs.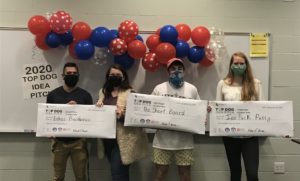 Teams delivered five-minute pitches about their ideas to see how professional judges rated their concepts. Louisiana Tech students viewed videos and voted for their favorite ideas. The Idea Pitch gives teams exposure to experts who give feedback about their ideas and to potential customers which help teams gauge market interest. The Short Board team won first place and $500 for having the highest number of student votes. Ethics Prosthetics won second place and $250 and Ice Pack Putty won third place and $150.
The next event for the Idea Pitch teams is the preliminary round of the TOP DOG New Venture Championship on April 23.  This event offers teams a chance to win money and six months incubator space at Louisiana Tech to help them make progress toward turning their ideas into reality. Teams are mentored by business professionals and Bulldog Entrepreneurs sponsors helpful business planning seminars in the months before the New Venture Championship.
For more information about the TOP DOG events, contact Debbie Inman at debinman@latech.edu.
Teams
FEEDY (James Haynes and Joshua Poland, Business Management & Entrepreneurship majors and Zach Mercy, Supply Chain Management major) consolidates the functions of other diet assisting and health tracking apps, while incorporating local restaurants and their meals into the user's diet plan.
Ethics Prosthetics (Logan McCarthy, Biomedical Engineering, Cyber Engineering and Computer Science major, Denman McGinnis, Mechanical Engineering major and Madalynn Warner, Business Management & Entrepreneurship major) is developing a process to manufacture more affordable, high quality prosthetic devices.
Forget-Me-Not (Joshua Bass, Instrumentation and Control Systems Engineering Technology major) offers a smart car seat.
Ice Pack Putty (Abigail Hildenbrand, Biology major) offers a moldable ice putty which molds to sore or injured areas of the body.
Medz-Alert (Biomedical Engineering majors Taylor Burreson, Aaron Morgan, and Kayla Babin) is creating a pillbox to help manage elderly or disabled people's daily medications.
One Curl For All (Business Management & Entrepreneurship Majors Summer Banuelos and Sarah Evans) offers an extended curling wand that provides extra coverage to develop curls for individuals with long hair.
Peryton Drone (Daniel Kumler, Cyber Engineering and Electrical Engineering major and Cade Spikes, Business Management & Entrepreneurship major) combines the advantages of flying and driving drones in one light weight package.
The Short Board (Dalton Diel, Business Management & Entrepreneurship and Tyler Emory, Mechanical Engineering majors) is a collapsible long board for skateboarders.
The Lot (Business Management & Entrepreneurship majors Christopher Ritch, Noah Blackwell, Benjamin Upshaw, and Devante Williams) is an event center featuring customizable personal spaces.
Thermal Management Surface (Rick Fontenot, Mechanical Engineering major) is developing an alternative means of temperature regulation against radiation heat transfer for the space industry.
WeThriv (Ariel Montague, Finance major) is an online organization to empower women by giving them a platform to spread positive content.