International student finds home away from home at Louisiana Tech
Neither a global pandemic nor being 3,943 miles from home could make Louisiana Tech University Engineering major Ana Moscoso feel disappointment in her choice for college.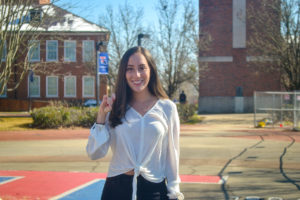 Moscoso arrived in Ruston in 2018 from Santa Cruz, Bolivia, with big dreams. This pandemic year has given Moscoso a number of challenges.
"I never expected Louisiana Tech to revolutionize my life the way it did," she said.
Moscoso quickly adjusted to her new home and has continued to progress despite changes in the way she lived and studied because of the pandemic. Being involved in campus activities like the Student Government Association and Phi Mu sorority allowed for her to gain new experiences and friendships.
"I have always enjoyed finding ways to be involved, but I could not do it without the support of my professors and peers," she said. "The quality of education has exceeded my expectations."
Even though COVID-19 has limited her ability to attend events, she still has many connections and keeps up with her friends. Moscoso said it was a challenge to transition to taking some classes online, but her professors were understanding and much of her inspiration comes from her professors.
International students interested in thinking about traveling across the world for education should absolutely consider it, Moscoso said.
"(Do) not be fearful and get involved as quickly as possible," she added. "There are many opportunities here, and I am glad I didn't miss them."
———————
This profile of international student Ana Moscoso was written by Louisiana Tech Communication student Caroline Payne.