Industrial engineer and Tenets of Tech awardee says goodbye to Louisiana Tech
Industrial Engineering graduate Emily Theriot knew from a young age that she wanted to pursue a career in a STEM (science, technology, engineering, and mathematics) field. When it was time to choose a college, she selected Louisiana Tech University knowing that she would earn a degree from one of the best engineering universities in the country. By the time she completed the University's first- and second-year Living with the Lab series, Theriot was determined to become an industrial engineer.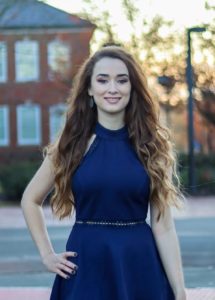 "Starting out your degree with hands-on, technical projects is definitely something that separates Louisiana Tech from other schools since many students do not get the chance to start projects until sophomore or junior year," she said of the Living with the Lab series. "I saw how well the degree meshed with things I do every day. I'm always trying to increase the efficiency of whatever I am doing and perform it in an organized manner, which is a fundamental of industrial engineering. I also knew I wanted to direct myself toward a managerial role within an engineering team, and Louisiana Tech's Industrial Engineering program really prepares you for that."
As a Louisiana Tech Industrial Engineering student, Theriot has earned four professional certificates in Lean and Six Sigma practices and has completed internships with Medtronic, which resulted in a patent application, and with UPS. She and two classmates will present research that originated during her UPS internship at the digital University of Louisiana System "For Our Future Conference 2021" later this month.
"The Industrial Engineering program has done an excellent job of helping me learn about various processes. The program prepares you well for many positions that don't have the words "industrial engineer" in the title. I qualified for my internship with Medtronic because everything I learned from my major and minor applied to what they were looking for."
Theriot also spent four years as an active member of the Louisiana Tech College of Engineering and Science community, committing time and effort to the College's student chapter of American Society of Mechanical Engineers, its Society of Women Engineers, and its chapter of the national engineering honor society Tau Beta Pi. In the past year, she has become a member of the national Order of the Engineer and was selected for Louisiana Tech's Who's Who, and was the female 2021 Tenets of Tech awardee.
Last Saturday, Theriot graduated with a Bachelor of Science in Industrial Engineering and minors in Mechanical Engineering and International Studies. She will carry her Louisiana Tech education and the skills she learned here to Europe where she plans to study product and innovation management at Eindhoven University of Technology in the Netherlands, the University of Oulu in Finland, or TU Dublin in Ireland.
What advice does she leave to her fellow Louisiana Tech Industrial Engineering students and anyone considering joining the program?
"Other students and the Industrial Engineering professors are here to help you succeed! Reach out to them for help with classwork or projects. Our professors can also help you with internship or career opportunities. If any company has a process, you'll be able to apply an industrial engineering degree to a job there. It is such a versatile degree in that way since you are able to go into so many fields. In addition, take advantage of earning our certificates! Two are built into our curriculum and are obtained by earning an A or B in select classes. The other is obtained by taking an optional Black Belt Project class in conjunction with classes you already take. This class gives experience working with a company and other classes the program offers do as well, so I feel that industrial engineering students get a great opportunity for building their real-world skills!"