COES signs more than 100 academic superstars on Commitment Day
More than 100 top academic prospects from around the country have committed to join Louisiana Tech University's College of Engineering and Science (COES) Class of 2025.
Modeled after National Signing Day for athletics, Commitment Day is a celebration to showcase the achievements of the students that are joining engineering and science programs at Louisiana Tech.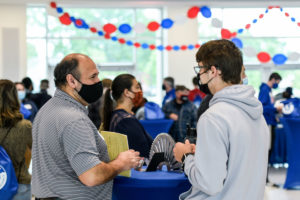 The College welcomed nearly 100 prospective undergraduate students to its fifth annual Commitment Day celebration on campus at the Integrated Engineering and Science Building (IESB) in Ruston, while another 32 students have committed virtually already.
Applicants who earned qualifying scores on the ACT were invited to attend an on-campus session with their families – where they could meet with Louisiana Tech faculty and leaders including COES Dean Dr. Hisham Hegab and COES Associate Dean of Undergraduate Studies Dr. Heath Tims – or to complete the ceremony online by signing the certificate of commitment and sending it along with a photo of themselves signing the paperwork to COES Admissions Specialist, Leslie Brister.
"Commitment Day is always an exciting time for our incoming students, but also for our College," Tims said. "These students have proven themselves in the classroom and in all that they have done to prepare for coming here,  and it is great to be able to celebrate them as they formally commit to joining our programs."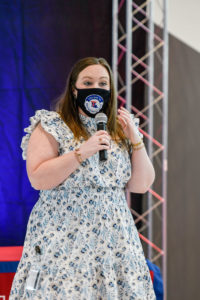 "Commitment Day is always a special time," Brister added, "but I think this year, more so than others. These students have had a less-than-normal senior year. It was great to celebrate them in person and welcome them to the Tech and COES family."
To allow for social distancing, the on-campus event, sponsored by Graphics Packaging International, was held in three sessions on April 15 and 16. Commits signed letters of commitment to the University and College, had their photos taken, received COES swag, took placement exams, and attended a reception celebrating their success with their families and Tech faculty.
Each student who completed the ceremony, either in-person or online, will pursue a degree in one of fourteen majors: biomedical engineering, chemical engineering, chemistry, civil engineering, computer science, construction engineering technology, cyber engineering, electrical engineering, industrial engineering, instrumentation and controls systems engineering technology, mathematics and statistics, mechanical engineering, nanosystems engineering, or physics.
Prospective students can still complete the ceremony online. If you would like to commit to earn your undergraduate Engineering and Science degree at Louisiana Tech, contact the COES Office of Undergraduate Studies (coesugs@latech.edu).
Connor Alford – Prairieville, Louisiana
Ian Armstrong – Haughton, Louisiana
Erlinda Azores – Plano, Texas
Arlind Bengu – Avon, Ohio
Ian Bertrand – Covington, Louisiana
Ian Blackwell – Urania, Louisiana
Samuel Brashier – Saint Francisville, Louisiana
Trisha Carter – Elmer, Louisiana
Grayson Cary – Keithville, Louisiana
Jobie Cheramie – Cut Off, Louisiana
Cristeven Chittenden – Chandler, Texas
Ethan Cochran – Benton, Arkansas
James Cole – Deridder, Louisiana
Chad Cook – Benton, Louisiana
Katie Cooley – Dequincy, Louisiana
Cameron Cormier – Opelousas, Louisiana
Zoe Curtis – Leesville, Louisiana
Logan Davenport – Youngsville, Louisiana
Kyleigh Davis – Choudrant, Louisiana
Dereck DeAgano – Kenner, Louisiana
Colin Doherty – Marrero, Louisiana
Catherine Douglas – Walker, Louisiana
Caden Edwards – Hughes Springs, Texas
Marshall Elkins – Alexandria, Louisiana
Ezra Esquivel – Austin – Texas
Kenneth Fairchild – Raceland, Louisiana
Jacob Fannon – Bryant, Arkansas
Felicity Faust – Natchitoches, Louisiana
Gabriel Ferrell – Bossier, Louisiana
Regina Fletcher – Gretna, Louisiana
Connor Fonseca – Larose, Louisiana
Jeremy Fountain – Deridder, Louisiana
Haley Franklin – Baton Rouge, Louisiana
Jalen Garner – Bossier, Louisiana
Douglas Graham – Benton, Louisiana
Logan Green – Marion, Louisiana
Jacob Gurie – Marksville, Louisiana
Benjamin Haley – Denham Springs, Louisiana
Timothy Hammond – Pineville, Louisiana
Ian Hazleton – Wichita, Kansas
Griffin Hebert – Iota, Louisiana
Luke Henry – Lafayette, Louisiana
Ethan Herbold – Sherwood, Arkansas
Brayden Hermes – Shreveport, Louisiana
Hylie Holloway – Homer, Louisiana
Kayleigh Hudler – Longville, Louisiana
David Huntsberger – Tyler, Texas
Cassidy Husson – Henderson, Nevada
Calvin Idom – Monroe, Louisiana
Taylor James – Deridder, Louisiana
Madison James – Saint Amant, Louisiana
Alexander Jose – Clinton, Louisiana
Cynthia Langkamp – Spring, Texas
John Littleton – West Monroe, Louisiana
Eric Lockton – Leesville, Louisiana
Sam Lopez – Metairie, Louisiana
Samantha Lukas – Kenner, Louisiana
Nathan Massey – Clinton, Mississippi
Prajval Mathur – Navi Mumbai, Georgia
Taylor May – Clinton – Mississippi
Colton Mccann – Covington, Louisiana
Keegan Mcqueen – Shreveport, Louisiana
Rebecca Mitcham – Magnolia, Texas
Adeline Moss – Lake Charles, Louisiana
Matthew Neibel – Plano, Texas
Connor Nepveaux – Lafayette, Louisiana
Joseph Nolen – Hornbeck, Louisiana
David Null – Anacooc, Louisiana
Norma Olinde – Brandon, Mississippi
William Olinde – Brandon, Mississippi
Tamara Ozol – Gonzales, Louisiana
Caleb Phillips – Ruston, Louisiana
Jacob Portier – Youngsville, Louisiana
Kaleigh Powell – Amite, Louisiana
John Reina – Lake Charles, Louisiana
Noah Riche – Baton Rouge, Louisiana
Tony Riley – Pineville, Louisiana
Thomas Rogers – Alexandria, Louisiana
Joel Rosegrant – Houma, Louisiana
Mason Sanchez – Shreveport, Louisiana
Levi Savercool – Pitkin, Louisiana
Victorya Shaver – Simpson, Louisiana
Karissa Sherwin – West Monroe, Louisiana
Aidan Shipp – Texarkana, Arkansas
Leonard Siegfried – Longville, Louisiana
Northey Smith – Tyler, Texas
Sallie Snellings – Monroe, Louisiana
Jackson Still – Shreveport, Louisiana
Ryan Stubbs – Alexandria, Louisiana
Brandon Terrance – Baton Rouge, Louisiana
Macy Thibodeaux – Albany, Louisiana
Riley Thompson – Bossier City, Louisiana
Collyn Valentine – Sulphur, Louisiana
Peyton Van Lue – Magnolia, Texas
Samuel Vandiver – Lafayette, Louisiana
Persefphonie Vanzant – Mansfield, Louisiana
Thomas Wallace – Woodstock, Georgia
Tae-Woo Webb – Baton Rouge, Louisiana
Tyler Wendling – Camden, Arkansas
Ryan White – Prairieville, Louisiana
Jacob Wilkerson – Many, Louisiana
Emily Wines – McKinney, Texas
Elizabeth Woodard – Ruston, Louisiana
Lillian Woodward – West Monroe, Louisiana
Blake Woody – West Monroe, Louisiana
Reese Yorgason – Prairieville, Louisiana
Clara Zareck – Lake Charles, Louisiana