Doctoral student prepares to graduate, continue parallel computing research
When Computational Analysis and Modeling (CAM) student Wenjing Xu moved from Shanghai to Ruston to study at Louisiana Tech University, he was surprised to arrive in a small town that looked nothing like the America he'd seen in the movies. Now, as he prepares for graduation, he can't imagine leaving the University and town that has become home to him and his family.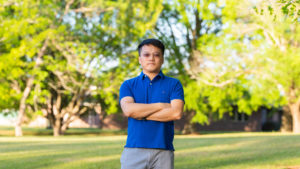 Despite first worrying when he saw Ruston's size, Xu quickly adapted to Ruston, and he became impressed with the combination of opportunities for innovative research through Louisiana Tech and nature viewing through areas around Ruston. One of his son, Ayden's, favorite pastimes is watching the ducks just outside town at Lincoln Parish Park.
Much of what Xu loves about Ruston has to do with the college-town vibe that he and his family have encountered through neighbors, friends, and most importantly, his advisor, Dr. Box Leangsuksun (Associate Professor of Computer Science), who has become like a member of his family.
"Ruston is a great place to study," Xu said. "The school provides a good environment. I can find most research resources in the library. There are many nice and professional teachers in the school.
"I believe that my relationship with Dr. Box will be a lifelong friendship. My family and I have a lot of good memories with him. We've visited his home in Ruston many times, for lunches, celebrations, and research discussions. I'm thankful for his friendship and mentorship. Even though he has been a friend, Dr. Box has always been very honest about my work. When he has harsh advice, he'll say, 'Some words will make you hurt, but that's good for you.'
"Dr. Box has always given me strong support. He has given me guidance on experiments, research, and career planning. He has guided me to explore new topics and given me critical feedback in time."
Through Leangsuksun's support, Xu has had the chance to work in his own lab space, an office devoted just to his work, where he's honed his technical skills while learning self-motivation, independence, and creativity. In addition, he's had multiple opportunities to work with international experts, as well as other Louisiana Tech students and professors in high-performance computing research, to teach introductory computer science courses at Louisiana Tech, and to coach high school students in summer camps addressing computing problems and solutions.
The most important work he's done during his tenure at Louisiana Tech has been in improving high-performance computing for use in parallel computing programs. Xu came to Louisiana Tech to earn a master's degree in computer science, and after taking a class with the man who would become his advisor, Dr. Box, Xu knew that a master's degree wouldn't be enough. He knew he wanted to work to develop new research in high-performance with graphics processing units (GPUs) because, in his words, "high-performance computing with GPUs will change the world." As a result, he made what he calls "the biggest decision" of his life, deciding to add a PhD in CAM to his educational pursuits.
The resulting dissertation research includes the framework for a model that estimates GPU performance and can be applied in many important applications such as medical image analysis, security, and artificial intelligence. Xu conducted a study to improve GPU performance by estimating the suitable number of threads per block, developed a novel method to elevate the limitation of the GPU, and developed two parallel computing abstract models.
Xu successfully defended the dissertation on "Parallel Computing Framework and Performance Analytical Model," and will graduate with his third Louisiana Tech degree. Xu has already earned Master of Science degrees in Computer Science and Mathematics from the University.
"I am thankful to both Louisiana Tech and my advisor for all the opportunities," Xu said. "Thanks to Dr. Box for providing me a chance to chase my dream and guiding me in the right direction when I am confused. Ruston and Louisiana Tech will always feel like home to me."
Once he receives his doctorate, Xu plans to continue his research. "I'm not going to stop trying to improve the build-out from GPU to hardware, as artificial intelligence will support more kinds of processors in the future."