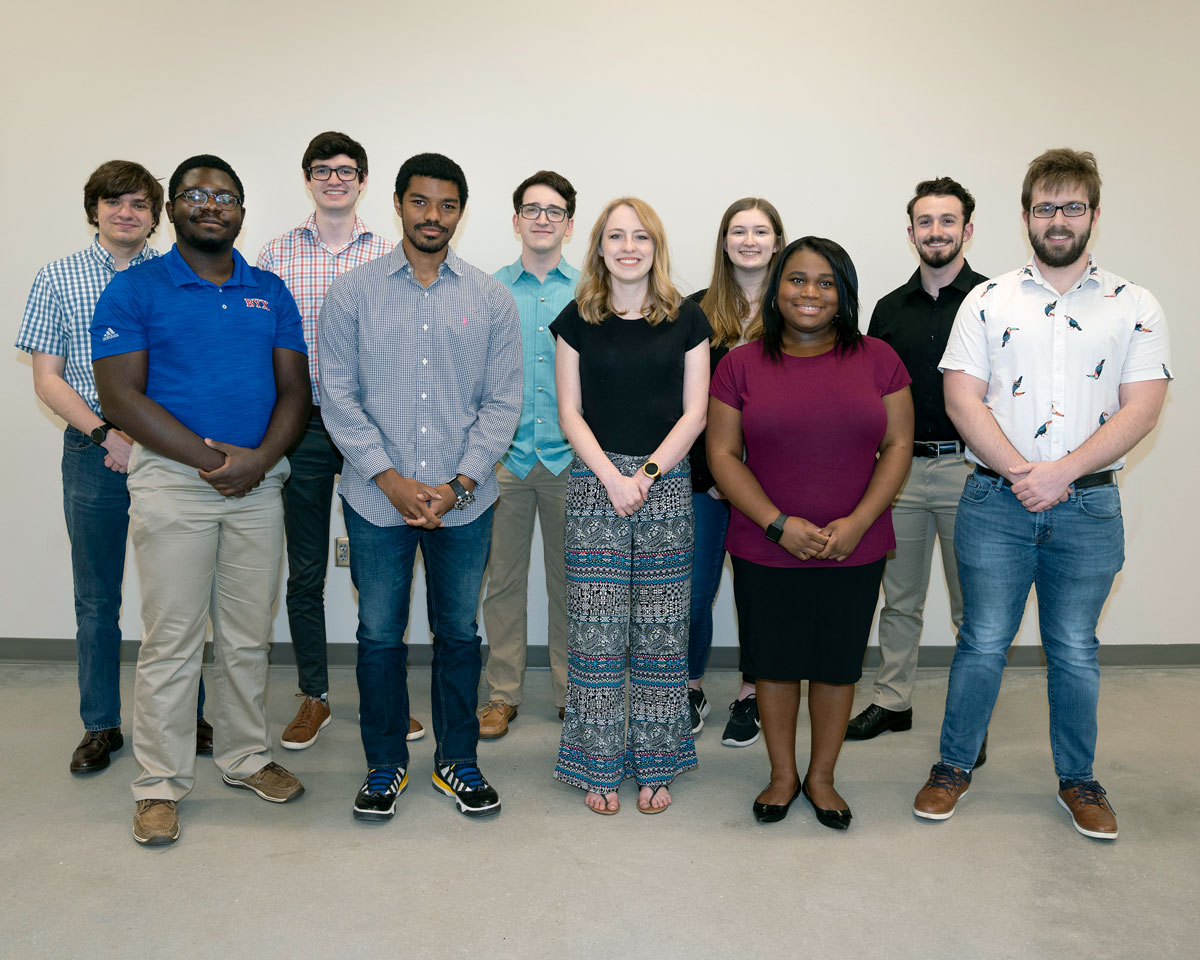 New CyberCorps scholars are (front, from left) Timothy Oliver, Solomon Loche, Mary Nations, Alana Williams, Jonah Fitzgerald, (back, from left) Alex Petty, Seth Warren, Nikolas Morgan, Brianna Stewart, and Carter Ray.
Ten College of Engineering and Science students earn service-based cybersecurity scholarships
Ten students enrolled in Louisiana Tech University's Computer Science and Cyber Engineering programs have pledged to devote at least two years of their careers to helping the United States government combat cyber terrorism and improve cyber defense mechanisms.
Jonah Fitzgerald, Solomon Loche, Nikolas Morgan, Mary Nations, Timothy Oliver, Alexander Petty, Carter Ray, Brianna Stewart, Seth Warren, and Alana Williams received CyberCorps®: Scholarship for Service awards, which include tuition, cost-of-living stipends, health insurance, professional development reimbursements, and book allowances, as well as the opportunity to participate in cybersecurity-related internships.
The CyberCorps® SFS is a unique program designed to recruit and train the next generation of cybersecurity professionals. This program provides scholarships for up to three years of support for outstanding students who make a commitment to a career in cybersecurity. In exchange, recipients agree to work in a cybersecurity-related field for the U.S. government for a period equal to the length of the scholarship.
"In an increasingly automated world, threats to U.S. infrastructure abound," said Dr. Hisham Hegab, a lead investigator for the grant and Dean of Tech's College of Engineering and Science. "The SFS awards will help prepare these students to lead the way in addressing the cyber threats in the future. I'm pleased that Louisiana Tech has the opportunity to help prepare them for that responsibility, and I'm thankful that this grant provides us with funding to do so."
CyberCorps® SFS students must be enrolled in either the University's Computer Science program with a Cybersecurity concentration or the Cyber Engineering program, have junior standing or higher, and maintain a 3.0 grade point average. To learn more about the Louisiana Tech program, go to the scholarship webpage.