Nanosystems Engineering student brings Naval experience to Tech
Nanosystems Engineering and Studio Art freshman and Monroe native, Nicholas Jones has two full-time jobs: one as a student taking a full load of classes, and another as a single dad of three small children. He also has a part-time job as an undergraduate research assistant with Dr. Shawn Chen, assistant professor of mechanical engineering at the University's Institute for Micromanufacturing, researching nanomaterials in harvesting energy.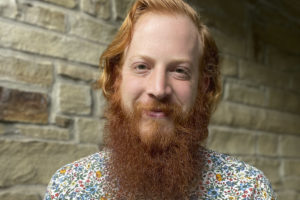 Despite his busy schedule, Jones has embraced the Louisiana Tech College of Engineering and Science's hands-on, project- and service-based learning model, finding research opportunities and joining the Freshman Engineering and Science Association.
His ability to focus on multiple projects at once has resulted in a 10-week National Science Foundation REU (undergraduate research experience) at the University of Arkansas – Fayetteville, which he began this summer.
Jones says he feels well-prepared for the REU because of his experience with Chen's lab. Through his undergraduate research assistantship at Louisiana Tech, Jones has learned the basics of molecular dynamics, researching how to create longer battery life for solid-state batteries using a solid electrolyte interface.
"It's been a steep learning curve, but the technical experience and the hands-on programming I've gotten is worth it."
Jones hopes to learn new skills and techniques working with a University of Arkansas team.
"I'm looking forward to working with a different team because there's a lot to be learned from working with new people and a different professor. They'll have different perspectives, more to bring back to apply to what I'm doing."
Jones discovered his love for nanosystems engineering while he was in the U.S. Navy, where he spent nine years as a Nuclear Mechanist's Mate in the Navy's Nuclear Operations program, eventually becoming an Instructor. As a Nuclear Machinist, Jones worked with engineers in water control for nuclear reactors and power generation.
Seeing the leadership and technical skills that the engineers brought to the projects, Jones decided that he wanted to become an engineer, too.
"I decided I wanted to become an engineer because I like taking stuff apart and putting it back together and I wanted to contribute to advancing the human race. I chose nanosystems engineering because I want to eventually get into engineering for the aerospace industry. Since nanosystems engineering focuses on nanoscale items, it will be a very easy transition from nanosystems engineering into an aerospace engineering job. I'm also interested in power generation and new materials. None of the other engineering programs felt right for my goals."
As a dual Nanosystems Engineering and Studio Art major, Jones' spent his freshman year getting hands on through the first-year engineering series and creating art through design courses.
"The intro to engineering series is great. I really enjoyed how you can take what you're learning and apply it later in the series. I like to tinker with things, and with the Living with the Lab courses, we get to build. But my favorite project so far is a piece of art I created using layers of paper stacked on top of each other. The end product is a silhouette of my kids walking on a path."
After graduation, Jones plans to pursue a graduate degree in nanosystems or aerospace engineering.