Construction engineering technology alum serves in leadership role on multimillion-dollar projects in Texas
Less than a year after graduating from Louisiana Tech University with a Bachelor of Science in Construction Engineering Technology, Monroe native Riley Smith has begun to make his mark on Zachry Construction Corporation and north Texas.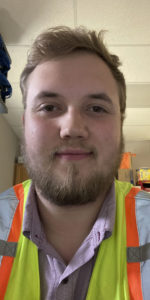 Smith is helping set up a batch plant in Roanoke, Texas, which will pave main lanes and supply concrete and earthwork for three multimillion-dollar, multiyear projects in the area. As one of only three field engineers serving under two project engineers and a project manager at the plant, he will take a leadership role, helping keep the jobs on track.
Smith helps manage the nearly $100 million Texas State Highway 170 project, overseeing the removal of more than 1.2 million yards of earth and the laying of more than 100,000 cubic yards of concrete and developing four overpasses and six Texas turnarounds.
Smith also helps lead the $33 million State Highway 114 project, which involves laying roughly 40,000 cubic yards of concrete around traffic. In addition, he oversees the submission of forms for lane closures and communication with law enforcement to ensure an officer is at the closure each day.
The third job that Smith is working on is the Avondale-Haslet Connector, which will connect an Amazon warehouse to Interstate 35W and into State Highway 170. The connector is projected to come in at more than $200 million and take more than 110,000 cubic yards of concrete.
As part of his duties, Smith manages a batch plant superintendent, the traffic control foreperson, and the traffic control crew members over the three job sites, each of which he regularly visits to ensure that the work is on schedule.
Smith says that he believes that Louisiana Tech's Construction Engineering Technology program prepared him for success with these projects and helped him land the job.
"I consider myself fortunate to have gotten a position with a company that treats its employees so well. I quite enjoy my job and the people I work with. I credit my success so far to what I learned from the Construction Engineering Technology program faculty.
"Mr. [Jeff] Pike's structures and concrete design classes helped me learn the techniques I need as a field engineer at a concrete batch plant who works with mix designs all day, every day. Mr. [Reginald] Jeter's estimating classes helped me learn the cost estimation skills, figuring out how much things will cost right now and into the future. And that goes with Dr. [John] Easley's engineering economics class, as well. Dr. [M. Amin] Azimi's material concrete lab helped me learn to design concrete and work with it. I appreciate all the teachers that I had in the program. They all contributed to who I am as an engineer, even if it was just through conversations outside of class."
Although he doesn't have a favorite class, Smith says that some of his favorite memories at Tech were small but fun tasks and late nights finishing the most challenging projects.
"Mr. Jeter made the classes fun. I don't know why, but my favorite project was one from an estimation class. We had to estimate the cost of building a fence. I enjoyed that. I got to meet a lot of people that I've kept in contact with.
"That project and all the late nights working on Pike projects are some of my favorite memories. There were so many nights that Mike Knowles, Todd Wilson, and I would be working on a project for one of Mr. Pike's classes at 2 or 3 in the morning when it would be due in a few hours. So those are my favorite memories: the fence estimation project and all those late nights."
What advice does he have for students enrolling in the Construction Engineering Technology program? "Always show up on time for Mr. Pike's classes. You might think that missing five or ten minutes won't make a difference, but with Mr. Pike's classes, you could miss project deadlines or important project information."