COLLEGE OF ENGINEERING & SCIENCE
Alumni Spotlight: Willie Clark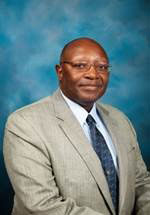 When Willie Clark embarked on his journey to Louisiana Tech, it was important for him to not only base his decision on the quality of his education, but also on the support provided from his environment. He praises his positive college experience for leading him to success during his undergraduate years as a Civil Engineering student and beyond.
"As a minority student in pre-engineering, I was looking for an engineering school where the professors were willing to work with me considering my limited background in the engineering field," said Clark. "I had no previous family members with a background in engineering and limited exposure to the field in high school. Other students who had attended my pre-engineering college before me had chosen Louisiana Tech and reported back on the great experience."
As a 1987 graduate, Clark felt he was well prepared for his prestigious career through the knowledge and instruction he gained in the College of Engineering and Science.
"The technical training from Louisiana Tech was outstanding, but also the training in engineering ethics, contract law and project management has been very beneficial during my career," he said. "I use those subjects on a daily basis in executing business development activities. In business development, you are putting together teams to pursue opportunities which require project management, teaming agreements, and a sense of trust and integrity derived from ethical behavior as you build your career."
Outside the classroom, Clark took part in the work study program to help partially pay for his schooling. He was assigned to work under Dr. Dixie Griffin as a student assistant, and he credits this experience with building his confidence in engineering and leadership.
"With no previous training, Dr. Griffin entrusted me to assess the needs for the lab, to order new equipment, set up the experiments and to teach the lab class—all done a year before I took the environmental engineering class. It was a blast.
Today, he is in his eighth year at Burns & McDonnell, where he serves as Federal Strategies Director at Burns & McDonnell for the U.S. Department of Energy (DOE) Office of Science, National Nuclear Security Administration (NNSA), U.S. Army Corp of Engineers, and other related DOE and government programs. In his current role, he performs strategic planning for expansion and growth in the DOE market, develops annual business plans, and projects prospect pipeline for DOE and related federal markets. Clark serves as capture manager for multiple project opportunities including developing teaming agreements, pre-solicitations, and proposals for commercial and nuclear projects.
Throughout his career, he has worked on unique projects like the design of the world's most powerful laser, the National Ignition Faculty (NIF) at the Lawrence Livermore National Laboratory. He also spent time managing engineering teams that designed both the Salt Waste Processing Facility (SWPF) at Savannah River Site, processing 30 million gallons of high-level nuclear waste, and the U.S. repository for highly enriched uranium, the Highly Enriched Uranium Materials Facility (HEUMF) at Y-12 National Security Complex in Oak Ridge, TN.
Despite the physical distance since graduation, Clark has always made an effort to stay involved with his Tech family—through his time and gifts to the Louisiana Tech Foundation. He even recently reconnected with his former professor and current University president, Dr. Les Guice. Clark is also passionate about supporting minority students on campus to make sure they have an adequate support network to grow and develop.
"My experience at Tech was outstanding and I would like to help make sure that experience is carried on for all students and, particularly, students of color," he said.  
Clark urges students to explore both inside and outside of the classroom and to always be open minded. He has seen firsthand how vital it is to always be a team player and feels it is a valuable skill set undergraduate students should not take for granted.
"When you arrive on campus, be focused on learning as much as you can as a student, but also learn to work in outside or related organizations," Clark said when asked what advice he would give current students. "In the short term, after graduation, focus on the engineering skills, but also be looking for future opportunities to become a project manager, business line manager, or expand into the field of business development. I hope my experiences will inspire someone to consider attending Louisiana Tech for the great engineering school and achieve their dreams in engineering and management."