COES Graduate Student Council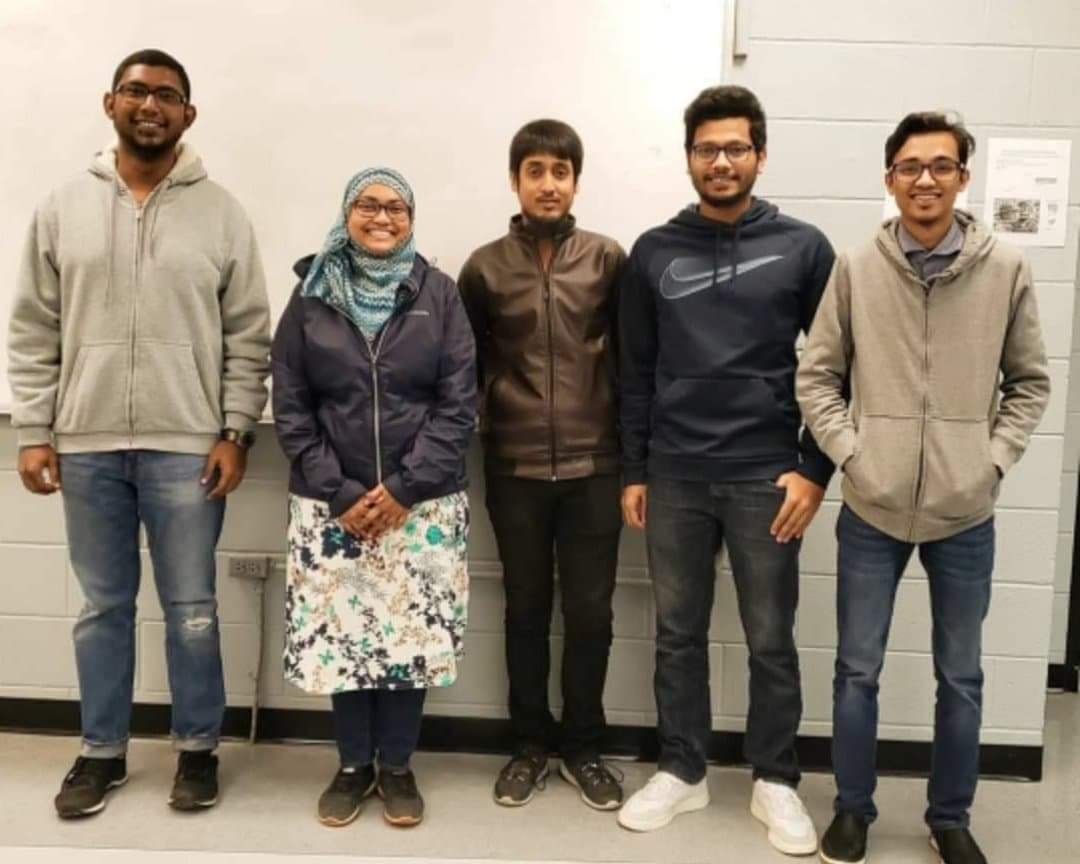 2020-2021 COES Graduate Student Council: L-R: Fraser Daniel (President), Nahid Farzana (Vice President), Saif Mohammed Ishraq Bari (Treasurer), Shama Mohammad Miraz (Secretary), and S M Al Islam Ovy (Public Relation Officer)
The COES graduate council is a student body for the graduate students of the College of Engineering and Science, Louisiana Tech University. Graduate students within the College of Engineering and Science participate in research-heavy curricula, often earning fellowships, grants, and awards, as well as graduating with a portfolio of peer-reviewed publications. Highlights from the 2018-19 academic year are listed below.
2018 Graduate Research Symposium
COES Graduate Symposium 2018: Follow the Science to Tech It Higher
The Graduate Council organized the COES Graduate Symposium that was held on December 14, 2018, for graduate students to showcase their work for the entire University.
Graduate students within the College conduct a significant amount of research. This symposium offers a friendly platform to showcase Tech's quality research in engineering and science and present their latest data to receive feedback from peers and faculty. It included posters and oral sessions for Biology/Bioengineering, General Engineering, and Computing and Simulation with faculty judges selecting the best poster and best oral presentation in each category. The research was presented on computer simulation for the effect of aging, hydrogels for bacterial release, expansive soil models from all parts of Louisiana, hair care formulation (patent pending) and many others under the same roof. The best presenters in both poster and oral talk categories were rewarded with a Luncheon with President Dr. Les Guice. Through this lively and engaging event, the COES graduate student organization aimed to encourage collective research and draw the attention of the University to the path-breaking research that goes on right here, on campus.
Anusha Elumalai
Strontium-coated clay nanoparticles for biomedical applications (Best Poster for Biology/Bioengineering)
Ashlesh Banjara
"Rapid Curing of Precast and Cast In-situ Green Concrete" (Best Poster, General Engineering)
Nishant Shakya
"On distributed computing with heterogenous communication constraints" (Best Poster, Computing and Simulation)
Chukwumaobim Nwokwu
"Platform for Solid-based and Antigene-specific purification of exosomes" (Best Oral Presentation, Biology/Bioengineering)
Social Events
Graduate students within the College of Engineering and Science participate in numerous extracurricular and social activities throughout the year.
Graduate Council President Jolin Rodriues performing at a fundraising event in early 2019
Winners of the Graduate Student Spring Social 2019
Graduate Student Council Social Chair Chukwumaobim Nwokwu in a play at the African Megafest 2019
Graduate Student Council Social Chair Chukwumaobim Nwokwu presenting mementos to Ruston Mayor Ronny Walker and Louisiana Tech University President Dr. Guice at the African Megafest 2019
Patents
Abhishek Panchal
1)  16,266835: Clay nanotubes for coating natural fibers, Issued Mar 18, 2019 
2) 62/550,926: CLAY MICROTUBE SELF-ASSEMBLY ON HAIR SURFACES: FORMULATION FOR MEDICAL AND HAIR COLOR TREATMENTS, Filed Aug 28, 2017
2018 NIMS-Tsukuba Fellowship, National Institute for Materials Science, Japan
Yusuf Darrat, Ph.D. candidate in Nanosystems Engineering
2018 Doctoral Diversity Fellowship
Deriesha Gaines, Ph.D. candidate in Biomedical Engineering
2018 Board of Regents/Graduate Fellows grant "Superior Graduate Fellows Supporting Five Centers of Excellence in Engineering"
Sean Nations, Ph.D candidate in Nanosystems Engineering
2018 Board of Regents Graduate Fellowship in MSNT
Charles Nicolasvu, Ph.D candidate in Molecular Science and Nanotechnology
2019-20 Thomas Jefferson National Accelerator Facility (Jefferson Lab) Fellowship
Devaki B. Pathak, Ph.D. candidate in Physics
Teaching Assistant of the Year Awards
The College of Engineering and Science Office of Graduate Studies names two outstanding teaching assistants as the "TA of the Year" at the end of the Spring Quarter each academic year. Many College of Engineering and Science graduate students have teaching assistantships and work hard throughout the year helping with undergraduate labs and other courses. In 2018-19, Neela Prajapati (top – doctoral student in Biomedical Engineering) and Aniruddh Bora (bottom – doctoral student in Computational Analysis and Modeling) went above and beyond, helping professors in freshman labs to deliver dynamic lessons to the students and earning the TA of the Year awards for the academic year.
Notable Papers and Conference Awards
Fraser Daniel, Nanosystems Engineering
"Temperature-dependent electrical resistance of conductive polylactic acid filament for fused deposition modeling," The International Journal of Advanced Manufacturing Technology, November 2018, Volume 99, Issue 5–8, pp 1215–1224 Best Poster Presentation at CIMM Symposium at Louisiana State University, June 2019
Debojit Sarker, Materials and Infrastructure Systems Engineering
Technical Report: Jay X. Wang, Debojit Sarker, B. Ikra (2018), "Development of a Mechanistic-based Design Method for Geosynthetic-Reinforced Pavement on Expansive Soils and Prediction of Moisture Content Fluctuations in Subgrades," Southern Plain Transportation Center, Grant No. DTRT13-G-UTC36. M. A. Khan, J. X. Wang, Debojit Sarker (2019), "Development of an Analytic Method for Computing Expansive Soil-Induced Stresses in Highway Pavement," International Journal of Geomechanics, ASCE. (Accepted)
Dr. Khawlah Kharashi, 2019 graduate in Molecular Sciences and Nanotechnology
Best Graduate Oral Presentation (Materials Science/Engineering): Two-time winner: March 10, 2018 and March 16, 2019 at the 92nd and 93rd Annual Meeting, respectively, of the Louisiana Academy of Science, Baton Rouge, Louisiana
Saif Mohammad Ishraq Bari, Ph.D. Candidate in Micro and Nanoscale Systems Engineering
S. M. I. Bari, L. G. Reis, G. G. Nestorova, Calorimetric sandwich-type immunosensor for quantification of TNF-α. Biosensors and Bioelectronics. 126, 82–87 (2019).
Shiddhartha Paul, Ph.D. candidate in Material Science and infrastructure Systems
S Paul, K Momeni. "Mechanochemistry of stable diamane and atomically thin diamond films synthesisfro m bi- and multilayer graphenene: A computational study". The Journal of Physical Chemistry C (ACS Publications), (Accepted), May 2019.
Jolin Rodrigues, Ph.D. candidate in Biomedical Engineering
Best Graduate Poster presentation (1st runner up), "Quantifying the Anti-Inflammatory Effects of Dexamethasone Treatment on Lipopolysaccharide-induced Oxidative Stress via an Innovative Electrochemical Sensing Strategy", LSU-HSC Research and Industry Day, 2018
IfM Philip J. Coane Distinguished Student Award
Nowzesh Hasan, Nanosystems Engineering '18

Nowzesh graduated in August 2018 and is currently working as a post-doc in Dr. Radadia's group helping train new group members. He has made a notable contribution in the field of field-effect ion sensing using graphene. Within a year of joining Dr. Adarsh Radadia's research group at Louisiana Tech, Nowzesh published an article in Electrochimica Acta (Impact Factor: 5.116) on analyses of the electrical surface effects that nanodiamonds cause on thermal oxidein in collaboration with Dr. J. Ross Macdonald, a member of both the National Academy of Sciences and the National Academy of Engineering. Within the next year, he published a paper in Nanomaterials (Impact Factor: 3.504) that demonstrated reversible and reproducible organic vapor sensing using few-flake reduced graphene oxide films on microfabricated interdigitated electrode arrays. In the third year, Nowzesh began developing graphene-based ion-sensitive field-effect transistors at the IfM. He characterized the ion-sensitivity of these devices and created a solid-state physics model accounting changes in charge carrier concentration and charge carrier mobilities to infer the responsible sensing mechanism. This work resulted in a publication in Advanced Materials Technologies (Impact Factor: 4.6) in 2018. While these transistors were not selective in ion-sensing, Nowzesh fabricated transistors that were coated with polymer membranes that are selective to sodium, potassium or calcium ions. He showed two ways to measure ion concentration, recording changes in the Dirac voltage or recording changes in the transconductance, with the latter being the more selective. Nowzesh's work involving microfabrication, with five papers in four years, truly serves as an example that "hard work never fails."
Nanosystems Engineering
Mahdi Saleh: LaSPACE Graduate Student Research Assistance (GSRA) award 2019-'20
Civil Engineering
John Kraft won two external scholarships, one from NASTT (North American Society for Trenchless Technology) and one from AGC (Associated General Contractors.)
Saleh Behbahani received the RETC 2019 Student Attendance Scholarship (http://www.retc.org/)
Hongfang Lu received "The Jack Doheny Memorial Training Scholarship" from National Association Of Sewer Service Companies (NASSCO, May 2019) and the "Outstanding reviewer" of "Energy Conversion and Management" and "Heliyon" from Elsevier publishing (2018)
2019 Biomedical Engineering Graduate Honors Luncheon
Biomedical Engineering, Outstanding PHD (RESEARCH): Timothy Noah Hutson
Biomedical Engineering, Outstanding PHD (ACADEMIC): Tyler R. Priddy-Arrington
Biomedical Engineering, Outstanding MS Award: Victor M. Carriere, Jr.
2019 CBERS Year-End Meeting
CBERS Excellence in Research PhD Award: Chao Tan, Nanosystems Engineering
Institute for Micromanufacturing (Ifm) awards 2018-19
Student Publication Awards
1. Abhishek Panchal, 4 papers in 2018, A. Panchal (first author), R. Fakhrullin, Y. Lvov, Nanoscale, v.10, 18205 – 18216, 2018, "Clay nanotube hair self-assembly coating for coloring and drug delivery" impact factor 7.31 + Curr. Opinion Coll. Interf. Impact 7.2 + ACS Sust. Chem. Engin. impact 5.94 and Colloids Surfaces B, impact 4.1
2. Chao Tan, 2 papers in 2018, C.Tan, (first author), G. Dutta, H. Yin, S.Siddiqui, P. Arumugam. Detection of neurochemicals with enhanced sensitivity and selectivity via hybrid multiwall carbon nanotube-ultrananocrystalline diamond microelectrodes. ; Sensors and Actuators B: 258 (2018): 193-203. (Impact: 5.67) + Hossain, I., C. Tan, P. Doughty, G. Dutta, T. Murray, S. Siddiqui, L. Iasemidis, P. Arumugam. "Novel Microbiosensor Microarray for Continuous ex vivo Monitoring of Gamma-Aminobutyric Acid in Real-Time." Front.in neuroscience 12 (2018). Impact: 3.88
3. Tyler Sonsalla, (first author), Moore, A. Meng, W., Radadia, A., Weiss, L., "3-D printer settings effects on the thermal conductivity of … styrene (ABS)," Polymer Testing 70, 2018, 389-395. Impact: 2.25
Volunteering
Louisiana Tech graduate students helped with relief efforts throughout Ruston after an EF-3 tornado damaged the campus, homes and businesses throughout the town in April 2019.
Outreach
Two students volunteered and presented at the Louisiana Tech CREWE (Cyber Research for Empowering Women Experimenters) workshop at the Academic Success Center in Bossier City, 2019. Learn more at the CREWE website.
(Left) Shristi Shrestha, Ph.D. Computer Science: Presentation on Smart Cities with IoT Devices; (Right) Sarah Mathew, M.S. Computer Science: Presentation on Text Generation using Recurrent Neural Network (RNN)