Electrical engineering student builds success through community
When Electrical Engineering senior Diego Segura Ibarra joined Louisiana Tech University in the Winter of 2018, he planned to earn an electrical engineering degree that would prepare him for a career in his dream field of integrated circuits. What he found was a community as invested in his success as he was.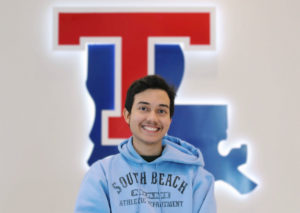 Segura Ibarra learned about Louisiana Tech's internationally renowned project-based engineering curricula through Study Union, an agency that helps place Colombian students in programs that will help them learn a second language. The organization placed his older brother in an independent institution in Boston where he could complete an ELS (English as a Second Language) program. A few years later when he was ready to join his brother in the U.S., Study Union connected him to the ELS program at Louisiana Tech where he could join a world-famous Electrical Engineering program afterward and his brother could study architecture.
Once he arrived in Ruston, Segura Ibarra quickly embraced the College of Engineering and Science hands-on, service-based educational model, becoming active in extracurricular organizations and community-building activities.
Through Tech's International Student Office (ISO), Bridges International, and College of Engineering and Science, Segura Ibarra found opportunities to connect with other students, faculty, and staff. Before the coronavirus pandemic limited gatherings, he served Colombian sweets at the ISO's International Dessert Nights, hosted a table at an ISO Scholarship Dinner, and participated in events at Louisiana Tech's campus Bridges International like roasting marshmallows. He even helped phone bank for the University to raise money for tornado relief in the spring of 2019.
Right now, Segura Ibarra's time is devoted to on-campus jobs at Burger Studio and McAllister's at Tolliver Hall, taking 15 hours of classes, working with Assistant Professor of Electrical Engineering Dr. Jinyuan Chen's team to build a deep learning model to detect COVID-19 from chest X-ray images, tutoring circuits students through the electrical engineering honors society Eta Kappa Nu, of which he's a member, and, of course, working with his team to complete research for the upcoming College of Engineering and Science Senior Projects Conference.
For the conference, Segura Ibarra and his teammates, Stephen T. Gordon and Kurt A. Glorioso, are working on an interdisciplinary project to develop a dielectric heater and an inductive heater for curing fly ash-based geopolymer concrete with multiple professors in the College of Engineering and Science. The team is working under the supervision of Dr. Prashanna Bhattarai, lecturer of electrical engineering and instrumentation and control systems engineering technology, with Dr. Shaurav Alam, assistant professor of civil engineering, construction engineering technology and associate director of the Trenchless Technology Center. Segura Ibarra, Gordon, and Glorioso are playing the key role in the project that originated with associate professor of chemistry and molecular science and nanotechnology Dr. Sven Eklund during a chat with Alam.
The team has developed an inductive heater and is working on a dielectric heater that reduces the time to cure geopolymer materials from the current time it takes to cure the materials: 18 hours. To reduce the time to cure the material, they are developing a method to generate heat throughout the material using inductive and dielectric heating mechanisms. Since the devices needed to implement those mechanisms are small and compact it facilitates the curing of the material and it may work for a 3-D printer.
Segura Ibarra's work ethic and aptitude have impressed both his research advisor and his senior projects advisor, and he was selected as a College of Engineering and Science 2021 Outstanding Senior.
"Diego is one of the most outstanding students I have ever seen," Chen said. "I was impressed with his intelligence and his passion for learning new knowledge. He would like to become an outstanding researcher and plans to continue his research with us as a Ph.D. student after getting his bachelor's degree. It has been a great pleasure working with him."
"I found Diego and his team very dedicated and passionate about their work," Alam added. "They are doing an outstanding job in performing and organizing the senior design project. I have no doubt that they will make excellent electrical engineers and make Tech proud as well."
Segura Ibarra says that he values the constant input that his advisors and other professors throughout the Electrical Engineering have provided him.
"Professors in the Electrical Engineering program make sure classes include some type of teamwork project," Segura Ibarra said, "and I believe that experience with teamwork will be a key to career success. The writing and lab reports have helped me build confidence in communicating ideas that have helped me in work with my senior project team. In the same way, our senior project has taught me to write large reports and follow through on a complex thesis. I feel like the Electrical Engineering program has prepared me for both a career and graduate school."
On his way to a career in integrated circuit design, Segura Ibarra plans to follow graduation in the fall with enrollment in a Ph.D. program at Tech.
What advice does he have for incoming students? "Read the book. It's more helpful than you think."
To learn more about the geopolymer project and other projects around the College, join us for the Senior Projects Conference on Friday, May 7.