COLLEGE OF ENGINEERING & SCIENCE
Excellence in Engineering: Gearing up for the 2024 Steel Bridge Competition
The Louisiana Tech chapter of the American Institute of Steel Construction (AISC) Steel Bridge team spends every year working out schematics on how to bring the title of best bridge builders to Tech. Typically, that process includes creating a plan to construct a 20-foot bridge capable of holding 2500 pounds of weight that solves the problem in the AISC prompt.
This year, they will be busier than usual as they juggle fundraising and event planning with their annual competition prep. The reason for the extra hustle and bustle? This summer, the team will host nearly 1,000 visitors for the 2024 Student Steel Bridge Competition National Finals. It's an ambitious task – but one that the team is up for.
The team has already begun mapping out a plan, coordinating venues, reaching out to potential sponsors, setting up fundraisers, and, most importantly, developing a communication plan to keep everyone in the loop. By May 29, when the winning teams from the 20 regional competitions arrive in Ruston, the team will be ready.
Louisiana Tech's Engineering and Science students don't just sit behind desks; they engage in extracurricular activities and hands-on projects from early in their education, and they are well-prepared to coordinate this event. I am confident that the conference and their competition performances will be successful.
The team's conference coordinator, Richard "Reed" Edwards, has years of experience in student leadership, having spent two years as a Steel Bridge team captain. Reed, a Civil Engineering alum ('23) and current Engineering and Technology Management student, says the team is working hard to ensure they're ready for nationals and regionals.
This event will provide great exposure to our University and student body," Reed said. "College of Engineering and Science and Louisiana Tech leadership are supporting our team in preparing everything for nationals. The biggest challenge in putting together a conference of this magnitude is communication, such as with the facilities, the University, food vendors, etc.," Reed said. "We are working on solving this challenge by having biweekly meetings to ensure everyone is clear on their responsibilities and each other's responsibilities.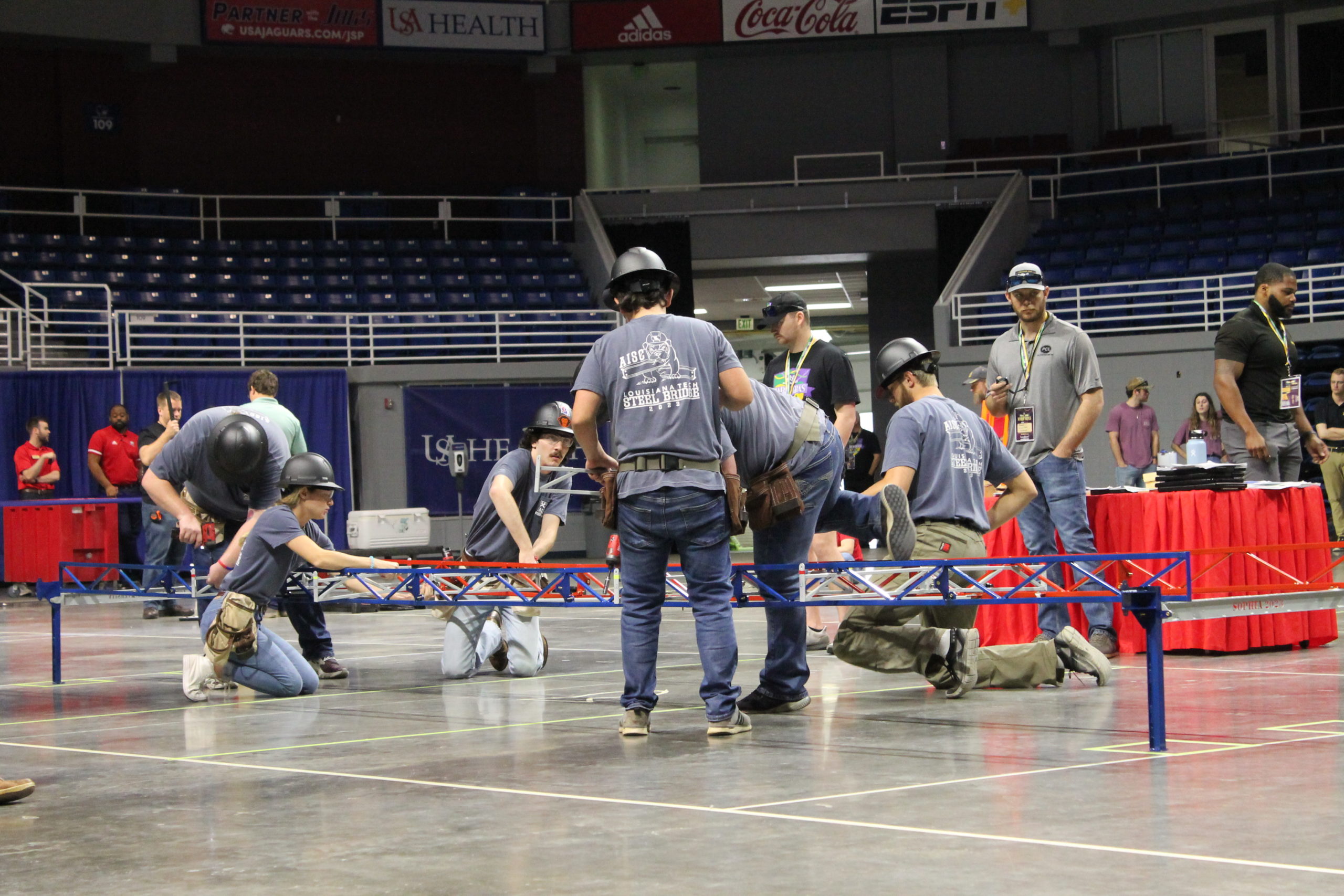 Tech's current Steel Bridge team captain, Kade Klink, adds that while he's focused on leading the team to victory at competition, he's impressed with the team members pulling double duty on the building and hosting teams.
Our team is kind of split between planning for nationals and building the bridge. I'm glad our teams are split up this way because it allows me to only focus on building a competitive bridge. The handful of people who help build the bridge and are planning for nationals are troopers. With school, work, and an engineering design club, we already have a lot on our plate, so it's very impressive to be able to gracefully host such a huge event like bridge nationals.
The Student Steel Bridge Competition fosters skills, innovation, and the ability to work under time constraints. Since its inception in 1987, the Student Steel Bridge Competition (SSBC) has grown from a small parking lot contest among three schools into a nationwide competition. Over 200 schools are expected to compete in regionals, and the top 40-45 teams will advance to the finals at Tech. The University, notably the College of Engineering and Science, has earned a reputation as a premier host for student conferences after hosting the 35th Annual American Society of Civil Engineers Student Championships in the summer of 2022.
Socials and registration for the national SSBC will be scattered across Louisiana Tech's campus, including space in the Quad, Lambright Sports Complex, and the Integrated Engineering and Science Building, and the teams will compete at the Ruston Sports Complex.
Support the Louisiana Tech Steel Bridge Team
You can support the team by donating to the BullMarket crowdfundraiser, becoming a sponsor, or volunteering to judge the competition.
Make an Individual Donation