COLLEGE OF ENGINEERING & SCIENCE
Study with Us
As a Louisiana Tech College of Engineering and Science student, you'll get hands-on experience solving real-world problems. In your first year, you'll learn the foundations of your field. Throughout your studies, you'll build prototypes and do intensive research to develop solutions to the problems that businesses, governments, and nonprofits face, and you'll have opportunities to participate in hackfests. Most importantly, you'll have opportunities to bond with your classmates through small classes and student organizations that will provide you with professional development, hands-on projects, and leadership experience.
Whether you join us as an undergraduate or graduate student, you'll have access to top-notch research and learning facilities and courses taught by experts in your field.
You belong at Louisiana Tech.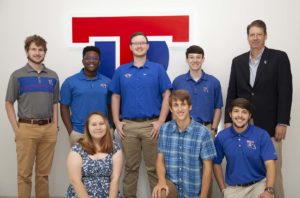 Seven students enrolled in Louisiana Tech University's intensive Computer Science and Cyber Engineering programs have pledged to devote the first two years of their careers to helping the United States government combat cyber terrorism and improve its cyber defense mechanisms.
Computer Science student Karina Chang of Corpus Christi, Texas, and Cyber Engineering students Joseph Brown of Covington, Travis Knippers of DeRidder, Blake Perrin of LaCombe, Cameron Thomas of Bossier City, Andrew Turner of Thibodaux, and Nicholas Winkelmann of Port Aransas, Texas, earned CyberCorps®: Scholarship for Service (SFS) awards for outstanding academic achievement and devotion to keeping the country's cyberspace safe.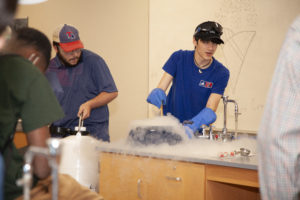 Louisiana Tech University's Engineering and Science Association (ESA) and College of Engineering and Science (COES) hosted hundreds of students from high schools throughout the Ark-La-Tex for the 2022 "To STEM and Beyond" Engineering and Science Day.
Engineering and Science (E&S) Day attendees were able to learn about science, technology, engineering, and mathematics, or STEM, including major and extracurricular options at Louisiana Tech. They began the event by listening to a keynote talk by National Aeronautics and Space Administration engineering space suit designer Amy Ross, who spoke about her experiences working with the agency.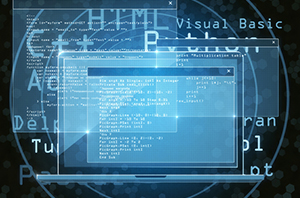 Dr. Brad Glisson, Associate Professor of Computer Science at Louisiana Tech University, has developed the Cybersecurity Information Technology Exploration (CITE) research group to provide a venue for students, academics, and industry professionals from various disciplines to share their experiences in cybersecurity.
The group collaborates with other National Centers for Academic Excellence in Cybersecurity and hosts weekly talks on cybersecurity and computer science topics and resulting research throughout the academic year and provides a venue for participants from different stages in their careers to present current research activities, brainstorm future research activities, and solve real-world problems.