COLLEGE OF ENGINEERING & SCIENCE
Engineering and Science Foundation Board History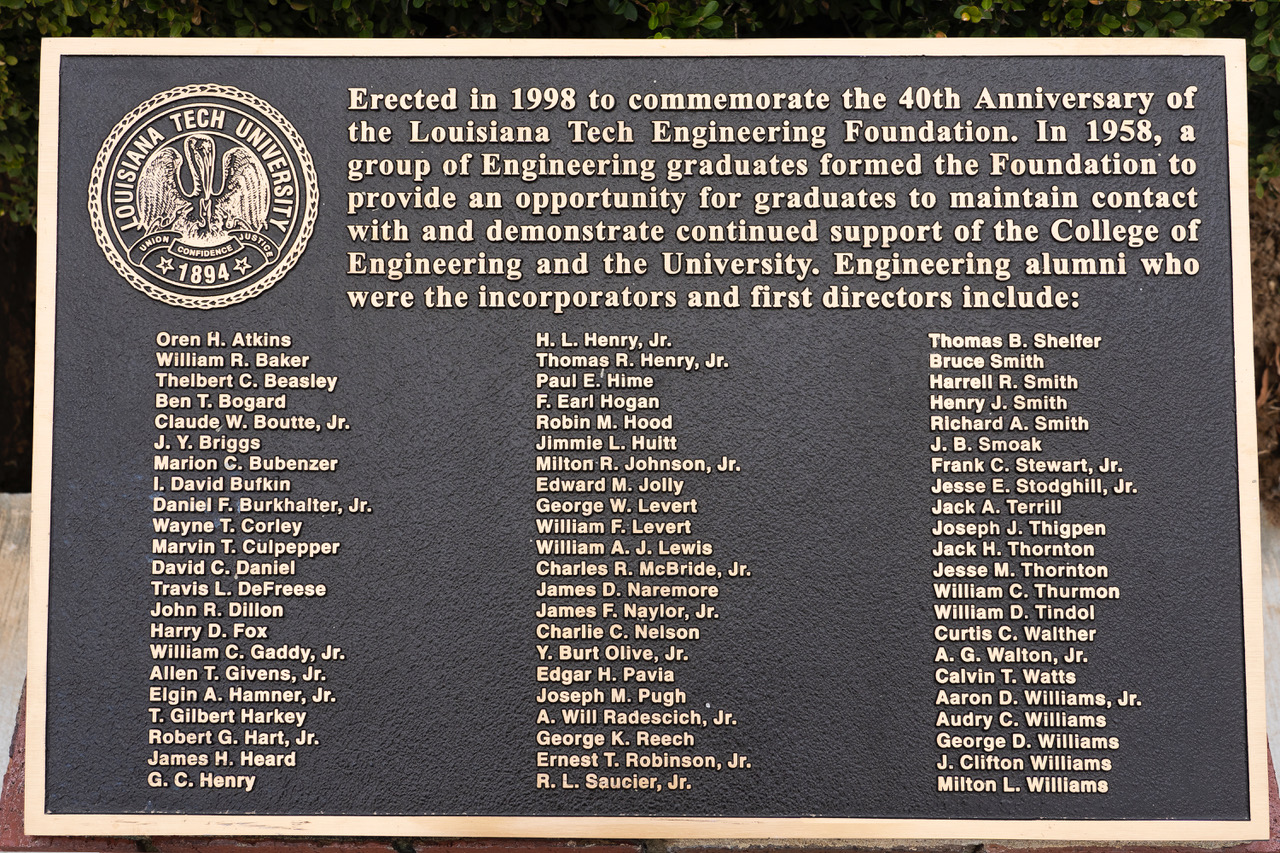 The Engineering and Science Foundation Board supports the activities and programs of the College, serves as an advisory committee to the Dean, secures funds to meet the College's needs, and coordinates efforts with the University Foundation.
The Board consists of Directors, Associate Directors (less than five years out of school), leaders of program advisory boards, and Life Directors. Officers are elected from director-level members. Directors are selected from recommendations of various sources. Anyone may suggest a director, and suggestions are welcome.
In 1958, a group of Engineering graduates met several times and determined that an organization was to provide an opportunity for graduates to maintain contact with and demonstrate continued interest in the College of Engineering and the University. The Foundation was formed and then incorporated in 1961 it received IRS approval as a non-profit organization for the support of education.
The Foundation functioned at a moderate level of activity until the late 1970s, at which time a decision was made to become more effective in developing financial assistance and a three year campaign was started in 1982. Activity subsided once again after the drive.
In 1996, the decision was made to move the Board into a proactive mode, to be more supportive of the College and address issues where the Dean and the College needed external input. Since that time, external input became a major factor in ABET accreditation. The Foundation now essentially functions as an advisory team for the Dean and the College.
The Board of Directors approved changing the Foundation's name in 1997 to reflect Engineering's merger with Chemistry, Math, and Physics to form the College of Engineering and Science.
Those involved in the organization, known as the 'original incorporators' (shown on the picture above) include the following.
Oren Howard Atkins, Mechanical Engineering 1938
William R. Baker, Civil Engineering 1939
Thelbert C. Beasley, Mechanical Engineering 1932
Claude Webb Boutte, Jr, Mechanical Engineering 1949
J.Y. Briggs, Mechanical Engineering 1941
Marion C. Bubenzer, Engineering 1918
I. David Bufkin, Mechanical Engineering 1948
Daniel F. Burkhalter, Jr., Electrical Engineering 1950
Wayne Thompson Corley, Mechanical Engineering 1941
Marvin T. Culpepper, Civil Engineering 1933
David C. Daniel, Mechanical Engineering 1941
Travis L. DeFreese, Electrical Engineering 1954
John Raleigh Dillon, Civil Engineering 1938
Harry Daniel Fox, Mechanical Engineering 1951
William C. Gaddy, Jr., Civil Engineering 1952
Allen T. Givens, Jr., Mechanical Engineering 1928
Elgin Alvon Hamner, Jr., Civil Engineering 1938
T. Gilbert Harkey, Mechanical Engineering 1949
Robert Gilbert Hart, Jr., Electrical Engineering 1937
James H. Heard, Mechanical Engineering 1947
G.C. Henry, Civil Engineering 1949
H.L. Henry, Mechanical Engineering and Electrical Engineering 1940
Thomas Reginald Henry, Civil Engineering 1948
Paul Edward Hime, Mechanical Engineering 1955
F. Earl Hogan, Civil Engineering 1942
Robin M. Hood, Mechanical Engineering 1927
Jimmie Lee Huitt, Chemical Engineering 1944
Milton R. Johnson, Electrical Engineering 1940
Edward Martin Jolly, Mechanical Engineering 1949
George W. Levert, Mechanical Engineering and Electrical Engineering 1941
William Francis Levert, Mechanical Engineering 1938
William A.J. Lewis, Mechanical Engineering 1956
Charles R. McBride, Mechanical Engineering 1940
James Doglas Naremore, Electrical Engineering 1950
James F. Naylor, Jr., Mechanical Engineering and Electrical Engineering 1928
Charlie C. Nelson, Engineering 1923
Y. Burt Olive, Jr., Mechanical Engineering 1949
Edgar Hugo Pavis, Mechanical Engineering 1950
Joseph Mack Pugh, Mechanical Engineering 1942
A. Will Radescich, Jr., Mechanical Engineering 1934
George K. Reech, Mechanical Engineering 1949
Ernest T. Robinson, Jr., Civil Engineering 1938
R.L. Saucier, Jr., Civil Engineering 1948
Thomas Basil Shelfer, Civil Engineering 1944
Bruce Smith, Engineering 1924
Harrell R. Smith, Mechanical Engineering 1935
Henry Judson Smith, Mechanical Engineering 1935
Richard A. Smith, Civil Engineering 1940
J.B. Smoak, Civil Engineering 1953
Frank C. Stewart, Jr., Mechanical Engineering 1946
Jesse T. Stodghill, Jr., Mechanical Engineering 1942
Jack Allen Terrill, Civil Engineering 1941
Joseph Jackson Thigpen, Mechanical Engineering 1936
Jack Harvey Thornton, Electrical Engineering 1943
Jesse Monroe Thornton, Electrical Engineering 1939
William C. Thurmon, Civil Engineering 1939
William Davison Tindol, Civil Engineering 1936
Curtis C. Walther, Biology 1917
A.G. Walton, Mechanical Engineering 1948
Calvin T. Watts, Civil Engineering 1937
Aaron D. Williams, Jr., Civil Engineering 1935
Audry C. Williams, Mechanical Engineering 1942
George Dallas Williams, Civil Engineering 1931
J. Clifton Williams, Mechanical Engineering 1950
Milton L. Williams, Mechanical Engineering 1944