COLLEGE OF ENGINEERING & SCIENCE
Empowering Future Engineers through Student Leadership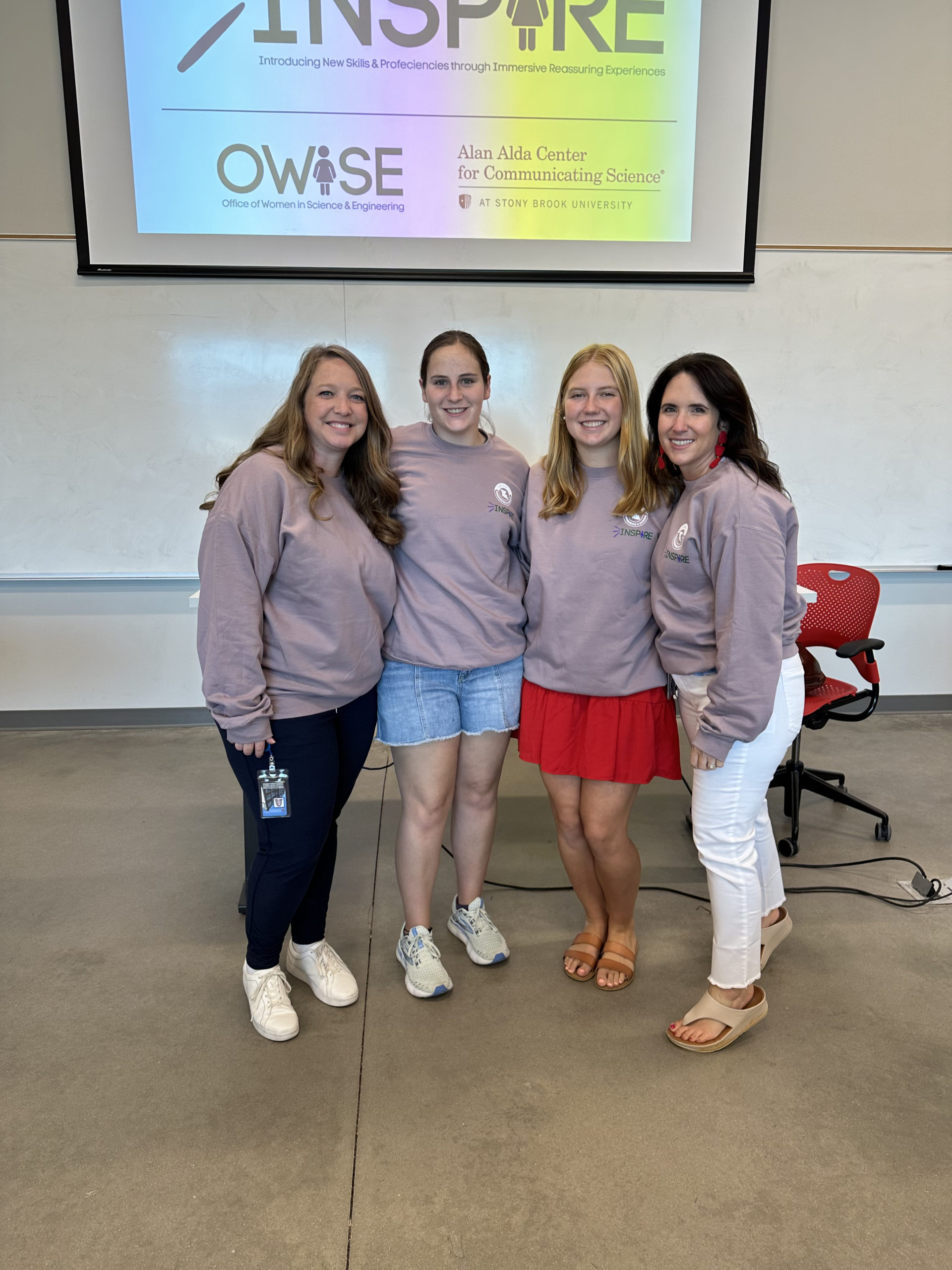 Coordinator of First-Year Engineering Programs and Director of the College of Engineering and Science Office of Women in Science and Engineering (COES OWISE), Dr. Krystal Cruse developed the INSPIRE (Introducing New Skills and Proficiencies through Immersive Reassuring Experiences) Workshop with two goals in mind: to provide new students with some practice and to help them find a community. To meet those goals, she invited four students and alums who she knew would create a welcoming environment for the next generation of women engineers. The result was even better than she had hoped.
One of the main reasons the event, co-sponsored by the COES OWISE and a grant from the Alan Alda Center for Communicating Science, lived up to the hype in her mind was because the student mentors were as motivated as she and her co-lead, Interim Director of Instrumentation and Control Systems Engineering Technology and Industrial Engineering and Program Chair and Professor of Biomedical Engineering Dr. Mary Caldorera-Moore, were to ensure that the incoming students got mentorship, advice, and positive feedback.
The student leaders – Elizabeth Dieguez (Chemical Engineering and Mathematics sophomore from Oscar), Hylie Holloway (Biomedical Engineering junior from Homer), Allie Smith (Biomedical Engineering junior from Albany), and Ashton Ward (Electrical Engineering alumnae '18, Engineering doctoral student from Ruston) – embraced the opportunity to teach nineteen first-year students the ropes or more accurately the machines, sharing their own stories while they helped the newest Bulldogs navigate the Living with the Lab equipment.
Elizabeth, Hylie, Allie, and Ashton volunteered their first weekend on campus to help Dr. Cruse and Dr. Caldorera-Moore guide the incoming students through two projects: crafting a die and assembling a lamp. But for them, the workshop was about more than teaching the incoming students to use milling machines, soldering equipment, 3D printers, and the laser cutter/engraver in the Prototyping Lab: It was a way to introduce them to COES culture and helping them build a community of support and camaraderie.
As a doctoral student, a Louisiana Tech alum, and someone with five years of on-the-job engineering experience, Ashton was able to share a unique perspective with the participants.
To prepare for the workshop, I thought about my time in undergrad at Tech and my time in the industry as an engineer and what big tips and experiences I wanted to share with the girls, such as time management, mistakes in my college career they could learn from, etc. I also completed the projects they would be doing ahead of time to make sure I could help them in the best way possible when they worked on the projects at the event.
Elizabeth and Hylie say that their favorite component of the workshop was the student panel they served on with Allie.
Having the first-year girls ask us questions about our experiences so far in college, and our plans after college allowed me to reflect on how much I have grown as a person and a student at Louisiana Tech. I remembered what it was like being in their shoes, full of questions about what college would be like and excited to begin my journey as an engineering student. I'm also grateful that I got closer with Dr. Cruse and met Dr. Caldorera-Moore, two wonderfully inspiring female engineers.
I was very honored to be a peer mentor for this workshop because it allowed me to connect with women at the beginning of their engineering journey. I was able to connect with them because of similar experiences. My favorite part of the workshop was when we did reflection questions from the workshop, and I got to talk deeply to a group of women about their long-term and short-term goals.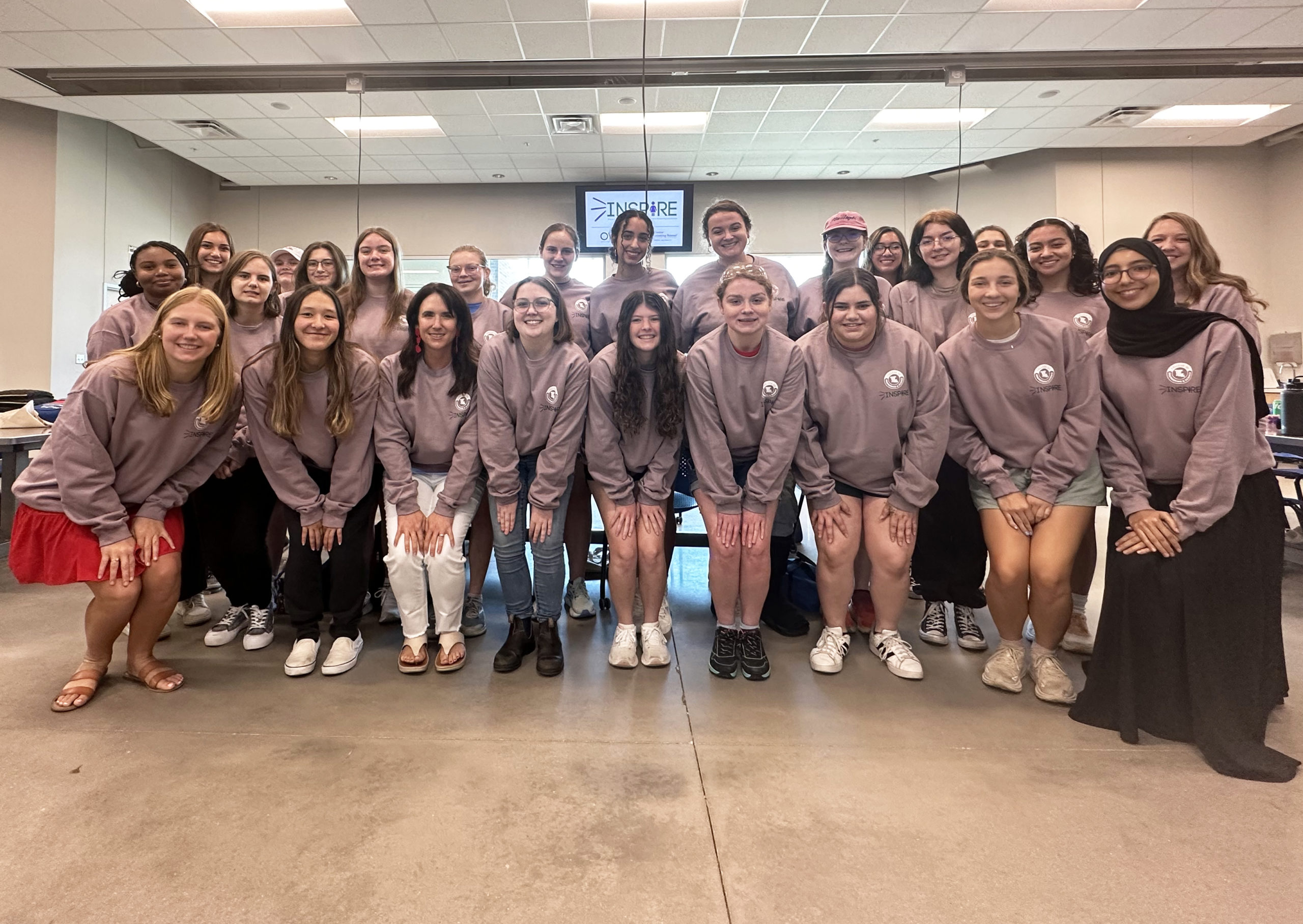 While the students prepared for the panel and to show the incoming students how to use the machines, Allie says that the most rewarding part of the workshop for her was seeing the burgeoning confidence in the newest engineering students after a few days of one-on-one conversations.
INSPIRE was not just about teaching skills; it was also about showing the girls the skills and abilities they already had but couldn't see. When the girls started showing up, I saw myself. I did what I would have wanted just a few years ago. I talked to them, asked them questions, and tried to take on the brunt of the conversation so they did not have to worry about coming up with anything. My goal was to help create a female community for the students. As the workshop went on, I also realized a personal goal of mine: to give incoming female engineers an honest view from an upper-level female engineer and to be an example of how to have fun and maintain their individual personalities in difficult majors.
My favorite part of mentoring for the workshop was Saturday morning when I was able to sit back and observe how some of the girls had already changed. Seeing them jump straight into their projects using the milling machine with confidence was pretty amazing. Seeing how some of them sat taller in their seats, smiled more, talked more, and looked generally more relaxed was great.
Dr. Caldorera-Moore and Dr. Cruse say that they were impressed with the workshop's outcome.
The INSPIRE Workshop organized by Dr. Cruse was an empowering experience for first-year female engineering students. It fostered confidence, companionship, and creativity among the participants. Dr. Cruse's unwavering dedication has created a safe environment where learning is enjoyable and resilient connections are formed, enabling the participants to better navigate their engineering path.
I was so encouraged and inspired watching our amazing upper-level female engineering students mentor and support their first-year female engineering peers, helping to fuel the incoming students' success and build community within the College.