COLLEGE OF ENGINEERING & SCIENCE
Hands-On Education on Display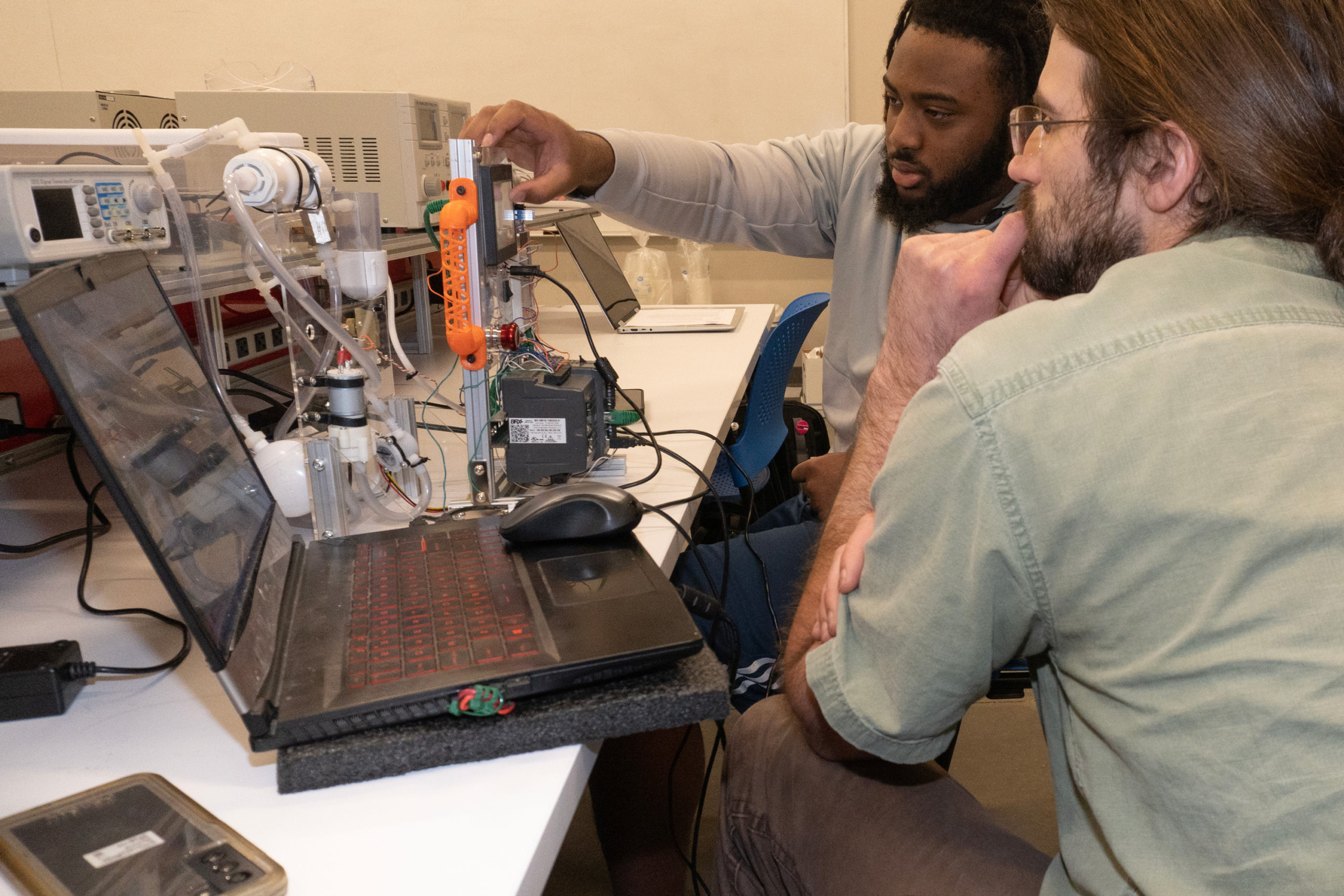 The College of Engineering and Science's newest bachelor's degree program, Instrumentation and Control Systems Engineering Technology (ICET), and one of its oldest Industrial Engineering (IE) celebrated hands-on success this year, as the ICET program earned accreditation and the IE program earned an international award for a senior capstone project. Both programs also received a new Academic Director: Dr. Mary Caldorera-Moore.
The ICET program earned ABET Accreditation from the Engineering Technology Accreditation Commission, and its enrollment increased by nearly a third, two big successes that were possible because of faculty commitment to the program. Program Chair Dr. Will Long led the accreditation effort. Dr. Long established a data collection and analysis system that facilitated efficient assessment and evaluation of the student learning outcomes that define the ICET student experience. ICET faculty contributed by developing hands-on, technology-focused courses and assisting with assessing and refining these courses.
Dr. Hall, who served as Director of the ICET program from 2017 until 2023, says that the biggest challenge in getting the program off the ground was to develop a full slate of industry-relevant projects that could be implemented for all ICET students. Instead of demonstration-style learning experiences every day in most classrooms and laboratories, the team designed the ICET program so that each student could utilize their own hardware and software tools while learning engineering fundamentals in parallel. The goal has been to prepare ICET students to make contributions the day they step into the workforce.
Faculty and Staff Who Helped Build ICET
Dr. David Hall
Former Director of ICET and IE
Dr. William Long
Program Chair of ICET | Director of Project-Based Learning
Ashley Osborne
Project-Based Learning Specialist
Dr. Krystal Cruse
First-Year Engineering Programs Coordinator | Director of the Office for Women in Science and Engineering
Casey Kidd
Project-Based Learning Professional
Dr. Jonathan Niemirowski
Visiting Lecturer
Charles "Neil" Rinehart
Specialized Laboratory Technician
Dr. Michael Swanbom
Distinguished Lecturer
Michael Theodos, P.E.
Professional in Residence
We have effectively extended the Living with the Lab approach from our first-year courses all the way to graduation for ICET students. They perform digital measurement and control activities in most of their courses, allowing them to develop industry-critical programming and troubleshooting skills.
Faculty Who Worked to Get ICET ABET Accreditation
Dr. David Hall
Former Director of ICET and IE
Dr. William Long
Program Chair of ICET | Director of Project-Based Learning
Dr. Michael Swanbom
Distinguished Lecturer
Dr. Heath Tims
Associate Dean of Undergraduate Studies
Dr. Galen Turner
Former Academic Director of Electrical Engineering Technology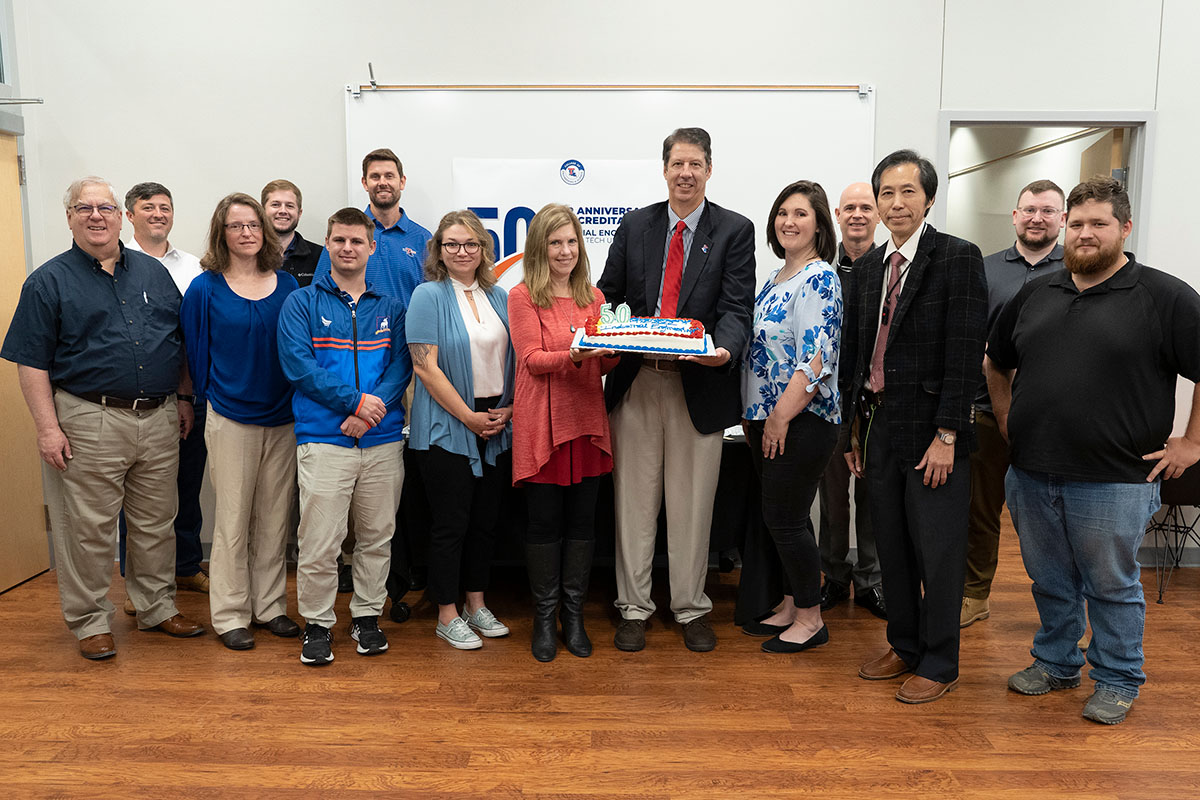 While the IE program celebrated its 50th year of accreditation last November, it celebrated its own accomplishments this summer when recent graduate Hayden Scaff (May '23) won first place at the Institute of Industrial and Systems Engineers (IISE) Annual Conference and Expo.
Louisiana Tech is unique because students have multiple opportunities to practice their presentation skills. The Industrial Engineering and capstone curriculum makes students step out of their comfort zones as industrial engineers, in particular, need to have excellent oral communication skills.
Both programs also received a new director this fall, as Dr. Hall, who began to focus more on teaching, handed leadership to Dr. Mary Caldorera-Moore, who, in typical COES fashion, hit the ground running.
Since taking the reins, Dr. Caldorera-Moore has worked with faculty, staff, and students in the two programs to ensure that faculty have what they need to provide students the education that has come to define a Louisiana Tech Engineering and Science degree, often rolling up her sleeves to pitch in wherever she's needed.
Dr. Caldorera-Moore's leadership style is very collaborative. From her first day as interim academic director of Industrial Engineering, she has consistently engaged with faculty to learn what we need to grow the program. She's adaptable and willing to work with us to accommodate our needs, even outside the classroom. She even performs extra duties when we need help.
Dr. Calderora-Moore demonstrates great potential as academic director and acts as a committed advocate for those under her leadership.
An alum and Dan D. and Linda D. Endowed Associate Professor of Louisiana Tech's Biomedical Engineering program, Dr. Caldorera-Moore is invested in the success of students, faculty, and staff and pledges to continue the collaborative legacy that Dr. Hall and many others have built for Louisiana Tech's engineering and science programs.
.
I am thrilled to be given the chance to be a part of these two incredible departmental teams. While I'm not certain if I can fill David's big shoes, I am committed to doing my best in supporting the growth of ICET and IE. I am honored to work alongside Dr. Long and Dr. Ker, both of whom have their programs running smoothly. Successful academic departments are built by the people within them, and ICET and IE are home to exceptional individuals and two amazing program chairs who are genuinely invested in their students' success.
Building on that same interdisciplinary spirit she showcased as a student, Dr. Caldorera-Moore has fostered innovation within COES. From co-directing interdisciplinary projects, like Louisiana Tech's "New Frontiers in Biomedical Engineering Seminar Series" and co-founding the Visual Integration of Science Through Art (VISTA) Center, to running the Multifunctional Conformable bioMaterials Lab, Caldorera-Moore has a history of mentorship and leadership within the COES. She spent two years (2021-2023) as Chair of the Biomedical Engineering program. She has also served as the faculty advisor for the Society of Women Engineers, is a member of the Office of Women in Science and Engineering, and is a member of the Center for Biomedical Engineering Research and Rehabilitation Science.