COLLEGE OF ENGINEERING & SCIENCE
Design and Research Conference Expands Opportunities for Students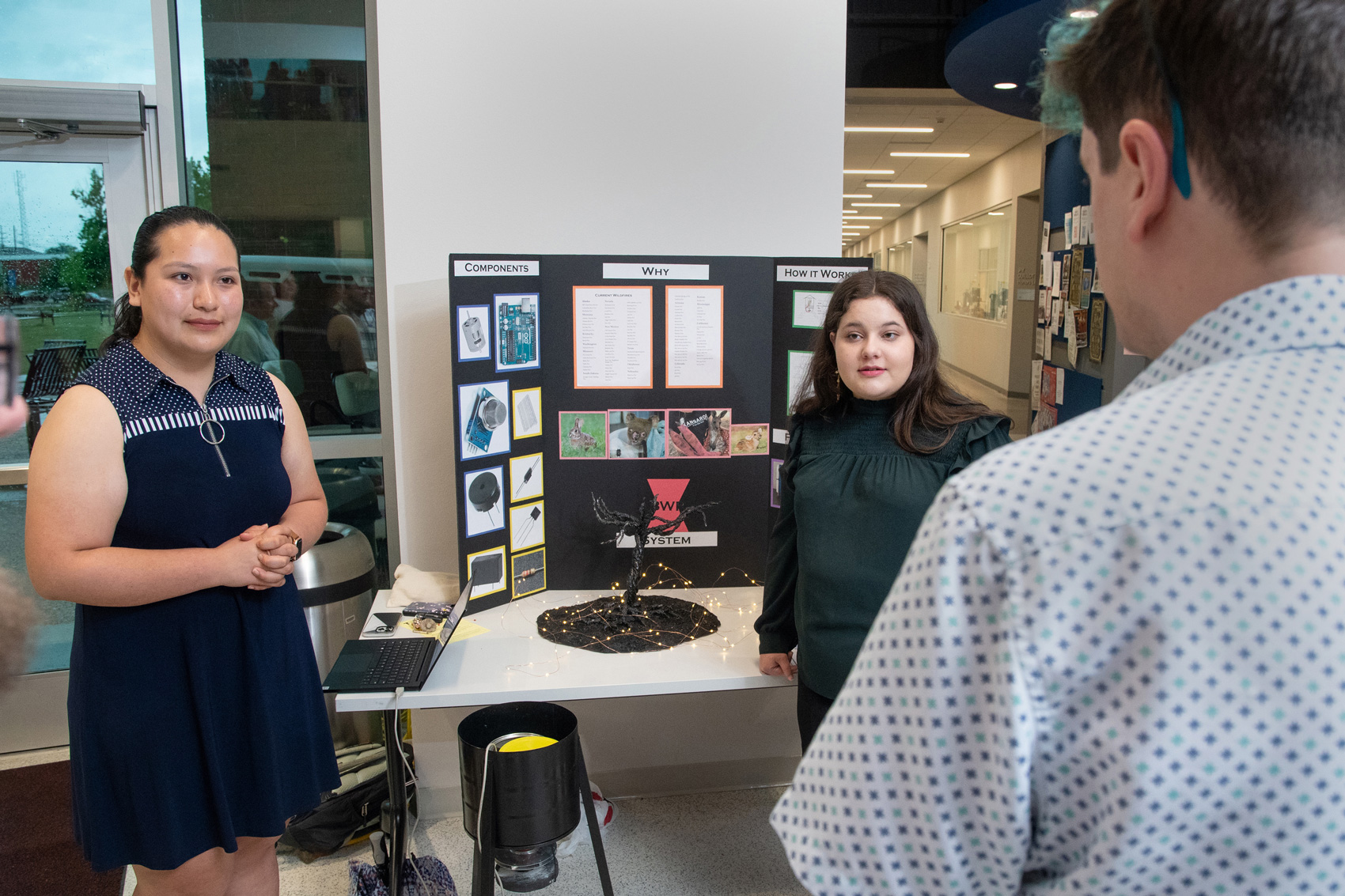 More than 200 freshman and senior teams showcased their skills and ingenuity at the inaugural College of Engineering and Science Design and Research Conference last spring. The students had the opportunity to network with their peers, alumni, faculty, staff, and members of the Ruston community as they presented prototypes, processes, and research they'd developed over the 2021-22 year.
Located throughout the Integrated Engineering and Science Building on May 5 and 6, the conference integrated the decades-long traditions of the Freshman Design Expo and the Senior Projects Conference with the relatively new Living with Cyber Expo. The result was a two-day extravaganza that culminated in celebrations of the 2022 COES Distinguished Alumni and Order of the Engineer inductees.
The success of the Design and Research Conference is the result of a lot of hard work: students who worked tirelessly to build presentations, faculty and staff who advised students, coordinated scheduling, and organized the conference, and alumni and industrial sponsors who requested projects and mentored students throughout the year.
First-Year Exhibitions
The conference kicked off at 5 p.m. on May 5 as teams of first-year students presented their prototypes in the Cyber or Engineering Exhibitions. 
Competing teams explained how they identified the need for the product, overcame challenges, and built the prototypes, as judges measured their responses for ambition, creativity, construction, innovation, success, and tenacity.
Volunteer judge and Instrumentation and Control Systems Engineering Technology student Joshua Bass says that he was impressed with the participants' ingenuity in finding a problem and its solution and their drive to persevere through stages of difficulty to build successful products, many of which could be taken to market. 
"I really enjoyed seeing just how innovative the students were when it came to finding a problem to solve, finding or creating the solution, and then presenting that solution in an informed manner that made it easy for other people to understand," he said. "Some important skills that I saw at the conference were confidence, humility, and an enthusiasm to learn as well as drive to push through the failures. What impressed me most was when a student thought of a way to use a sensor that probably wasn't the sensor's intended purpose. It conveyed a deeper understanding of how their system worked, and that's extremely important when it comes to trying to explain what your project does. The students who did well were willing to try and fail and learn from their mistakes. They were willing to ask for help if they didn't know."
Industrial Engineering student Caden Edwards says that the work of preparing for the conference helped him build a startup company. His team simplified a concept that he'd used as a beekeeper to monitor bee hive health. The research and hard work that he and his team put in to the BeeFree project, which earned second place in the Engineering Exhibition, led to an easy-to-manufacture and use sensor that monitors bee colony health. Caden says it is just the first of a product line of beekeeping tools in his company's future.
The Louisiana Tech University College of Engineering and Science Living with the Lab program is a phenomenal first-year experience. At the end of the quarter, freshman teams from across the College of Engineering and Science team up to compete in building the best smart project. My project specifically tackled the bee epidemic by implementing a monitoring system into the beehive in order to track specific fluctuations. My team, composed of Jacob Michelli, Christian Delbasty, and myself, placed second overall. I am beyond grateful for this opportunity as well as passionately curious as to where this prestigious university and college will lead me on my educational adventure.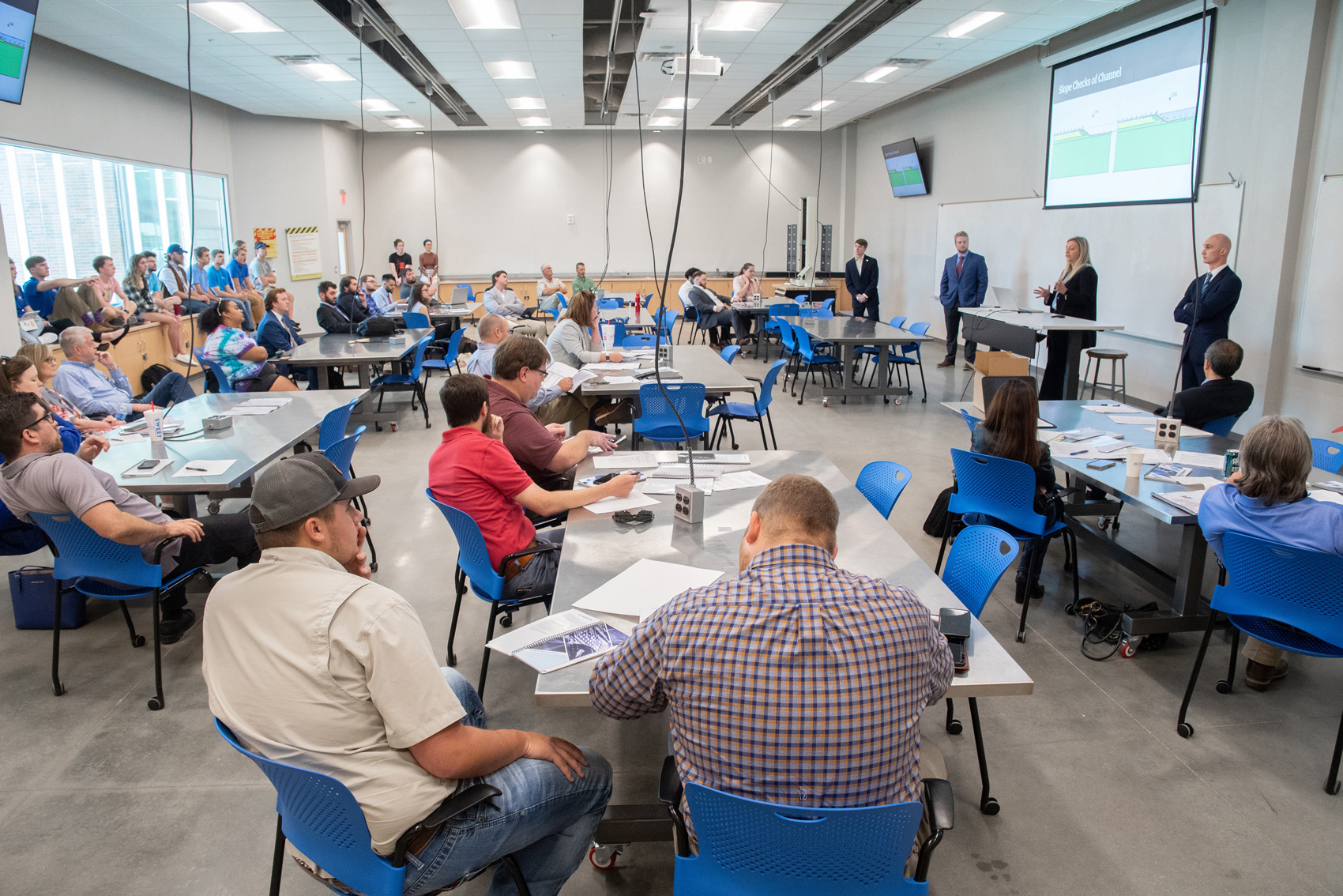 The day after first-year students completed their yearlong projects, seniors gathered to present theirs. Seniors from all fourteen engineering and science majors presented prototypes and research that provided audiences with insight into the engineering and scientific needs of businesses and how their skills could solve problems that experts, government agencies, and everyday individuals face. The expanded conference setting provided them with larger audiences than past Senior Projects Conferences, which added to the sense of professionalism and accomplishment that students already get from the conference.
The Gasket Application Machine team presented a machine that places gasket tape on ceiling grid pieces for Gordon Incorporated. The machine increased production speed by 50 percent, and the team earned a First Place Barnwell Award in the Mechanical Engineering Performance Session.
Being able to present the Gasket Application Machine in front of a group of judges and audience was a very unique experience," team member Courland Adaire said. "Since our design contained many moving components and features, we spent a lot of time trying to ensure our PowerPoint presentation was very clear for people who were not already very familiar with our project's details. We held many test presentations leading up to our final presentation, which included people who were both in and outside the College of Engineering and Science."
Building a project for an industrial sponsor has made me into a better communicator and engineer. I work at Concept Industrial Systems now designing machinery for many different companies, which has been easier after working for and communicating with Gordon Incorporated my entire senior year of college. 
"It was great to be able to show all of our hard work to our distinguished judges and family and friends," team member Micah Haney added. "When you work on a project for a whole year you really understand all the ins and outs of it so the presentation came pretty easily. It was cool that we were able to make something that would help the company in the future, but it also came along with challenges in communication, purchasing goods, and expressing expectations."
MOJO Outdoors President and CEO and Professional Engineer and Land Surveyor Terry Denmon worked with another Barnwell Award-winning team who developed a dynamometer to determine specs of small Mojo Outdoors DC motors, which could be provided to the manufacturer for quicker and more efficient production.
"We have sponsored several Senior Design Projects at Louisiana Tech, all concepted on needs we have at MOJO Outdoors, where our product line is based on small battery-powered motors," he said. "The team assigned to this project was extremely talented and, more importantly, easy to work with. The project proved to be more difficult than any of us imagined beforehand, but the team stuck with it and delivered great results. I cannot say enough good about them. Having been in the engineering field for many years, my view is that they were a credit to Louisiana Tech and will be to their future employers. It was an overall great experience."
Sydney Holland and a team of cyber engineers developed Security Probability, a security program that analyzes a user's social media posts and comments for information that would provide hackers with answers to standard security questions used in online services.
My favorite parts of the development process would be seeing how the group as a whole could pull something together. If one person was stumped on something, then another wouldn't hesitate to help out if they had a better understanding of the question being asked. We were all pretty nervous for preparing for our presentation, but once we started presenting we actually had our best run through. I think the most exciting part of the conference was seeing everyone else in our classes final projects and what other improvements they made to their projects.