COLLEGE OF ENGINEERING & SCIENCE
Engineering an Environment: Louisiana Tech Hosts ASCE Civil Engineering Student Championships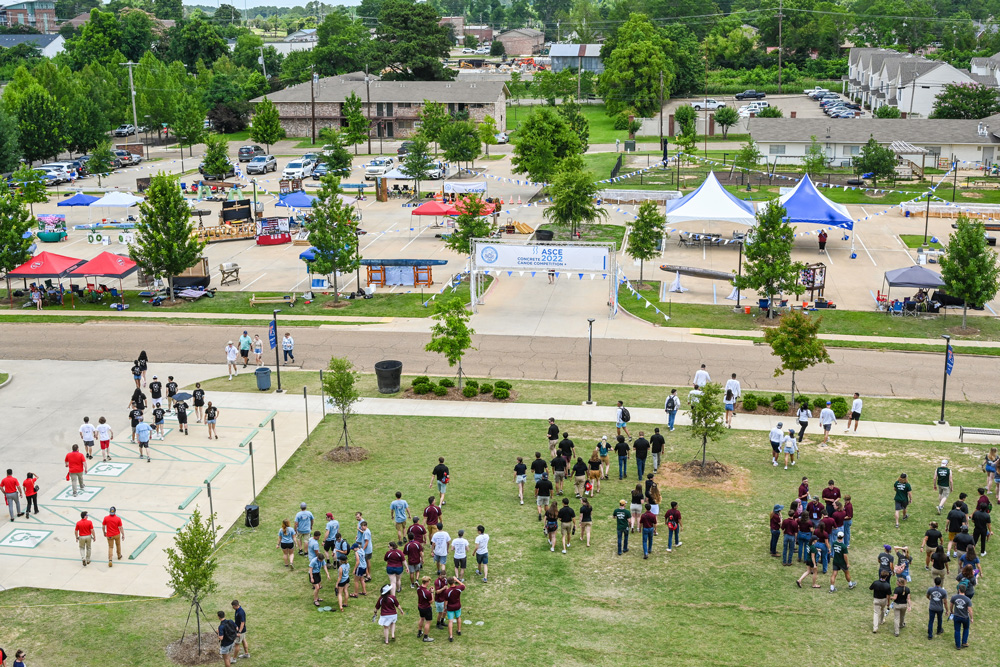 In early June, a "really crazy idea" landed hundreds of civil engineering students, professors, and guests in Ruston for the American Society of Civil Engineers (ASCE) Concrete Canoe Competition + Society-wide Finals. The 2022 Finals welcomed a new competition, Utility Engineering & Surveying Institute (UESI) Surveying, to join the Sustainable Solutions and Concrete Canoe Competitions.
Teams from 40 universities converged on Louisiana Tech to fight for bragging rights as the best in the world at building concrete canoes, accurately surveying land, and developing sustainable solutions for infrastructure problems.
In 2019, Civil Engineering senior and ASCE president Katya Opel had just attended the National Concrete Canoe Competition hosted at the Florida Institute of Technology in Melbourne. Katya was fascinated by the camaraderie among the engineers, the excitement of the competition, and the unique techniques that each team had used to build their canoes.
At the regional competitions, there are typical school rivalries. Once you get to the society-wide stage, everyone just wants to have fun and cheer each other on. Meeting students from all over the world is an incredible experience. In school, you are learning techniques that have been passed down through the years of your specific student chapter. Being able to see methods from other student chapters around the world is an unparalleled experience.
Shortly after returning to Ruston, she received an email from the ASCE Concrete Canoe Committee asking for bids to host the 2021 competition. After a frantic few weeks of gathering information, negotiating pricing with hotels and meal vendors, and getting permission to host on campus and at Lincoln Parish Park, Katya and her team submitted the bid.
As luck would have it, the committee selected another university to host the 2021 event – which was hosted remotely due to the COVID-19 outbreak. Louisiana Tech received a request for a visit and a potential opportunity to host in 2022. The visit happened just before the world shut down in March 2020, and shortly afterward, Katya and Louisiana Tech got word that the committee had chosen the University.
Having helped plan the Deep South Regional event that Louisiana Tech hosted in 2019, Katya had experience planning large-scale civil engineering events, which she used to help her team. Although she was ineligible to compete because she graduated shortly after Tech was chosen, she got to work leading the event coordination.
After nearly two years of pitches, applications, and planning, the student chapter of the Louisiana Tech ASCE brought more than 400 students from universities around the world to the Lincoln Parish Park and Ruston campus to race concrete canoes and test their engineering prowess.
We are proud to invest in the future of Civil Engineering through our support of impactful student programming like the 2022 Concrete Canoe Competition+. Throughout the presentations and races, we were deeply impressed and inspired by the ingenuity, knowledge, and passion on display by the teams present. The future of the profession – with these students leading the way – is bright!
The City of Ruston was thrilled to welcome the 2022 American Society of Civil Engineers Concrete Canoe Competition + hosted by Louisiana Tech and Lincoln Parish.  Louisiana Tech is the biggest economic driver in our City and hosting events like these is another example of the impact Tech has on our community.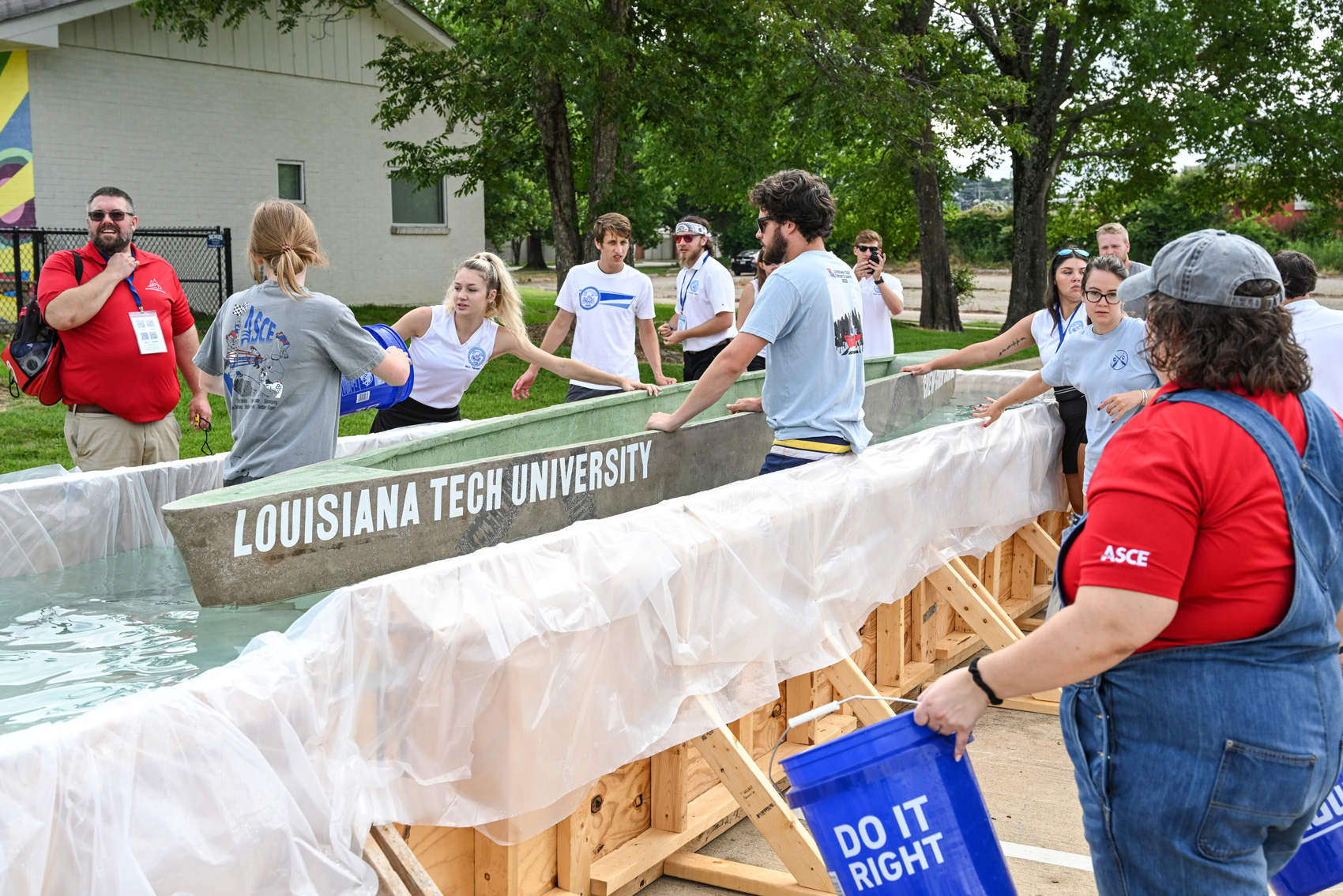 Since the 2022 competition was the first in-person event since 2019, the pressure was on to make the 2022 competition exciting and engaging for attendees. Her first task was to recruit a planning committee. The committee – Katya, ASCE faculty advisor Dr. Elizabeth Matthews, and undergraduate students Jacob Hampton, Brianna Murray, Jeffree Chapa, Noah Savoie, Trevor Fortier, Macy Thibodeaux, and Mallory Mankins – worked day and night to raise funds, book venues, schedule events, and communicate information to attendees.
"One of the benefits of the national competition is meeting with other teams, as well as learning about their techniques," Katya said. "It's a learning experience in a lot of ways. There were so many moving parts and ensuring that each competition was treated equally was very important to me."
Jason C. Wilson, Civil Engineering Instructor, Civil Engineering & Construction Management Program Coordinator, and Faculty Advisor for the Western Kentucky University team, praised the Louisiana Tech team's efforts in organizing the competition.
"There is a lot of work that goes into hosting an ASCE society-wide competition and Louisiana Tech did an excellent job this weekend.  I have been to 10 ASCE society-wide competitions and this was the smoothest one yet. Their planning and execution were flawless, and Louisiana Tech's facilities were phenomenal. The students were able to enjoy themselves and it was great to see the excitement of an in-person competition again."
Attendees had the opportunity to enjoy Ruston's food and culture, including Louisiana staples like crawfish, and were invited to join the Ruston community at the 72nd Annual Louisiana Peach Festival, where they enjoyed all things peach: ice cream, pies, and even slushies.
Heather Migdal, senior construction captain and paddler for the California Polytechnic State University (Cal Poly), San Luis Obispo Europa canoe, said that the Cal Poly team enjoyed the environment that the Louisiana Tech team created for the event.
"What I loved about this competition (and the whole team agrees) was getting to meet all the other schools and talking to other people who love concrete canoe as much as we do. Everyone was happy to talk to us about all the ideas and techniques that go into making a canoe and my team and I were able to learn a lot. The sense of community between schools was amazing. We were all friends that cheered each other on throughout race day and at the awards ceremony. There was mutual respect and genuine happiness for each other's successes which can be rare in competitions.
"Experiencing Louisiana by learning how to eat crawfish at the crawfish boil, eating some amazing peach ice cream at the peach festival, and watching bull riding at the rodeo were highlights of the weekend. We don't get those kinds of things out in California and we had a blast. The whole weekend was exceptionally well planned and ran smoothly which allowed us to keep our focus on the competition."
From the beginning, as a student joining an ASCE student chapter, there is already a sense of community in coming together with your peers. You work on hands-on projects throughout the year to best represent your school at the regional competition. There is so much camaraderie amongst your team and when you get there, you get to meet other students and faculty that share the same common interest – civil engineering. These peers are one day going to be your coworkers in the industry. Then for the next few years, you build friendships with these students that you see once a year and it's just a really great way to grow your network from a young age.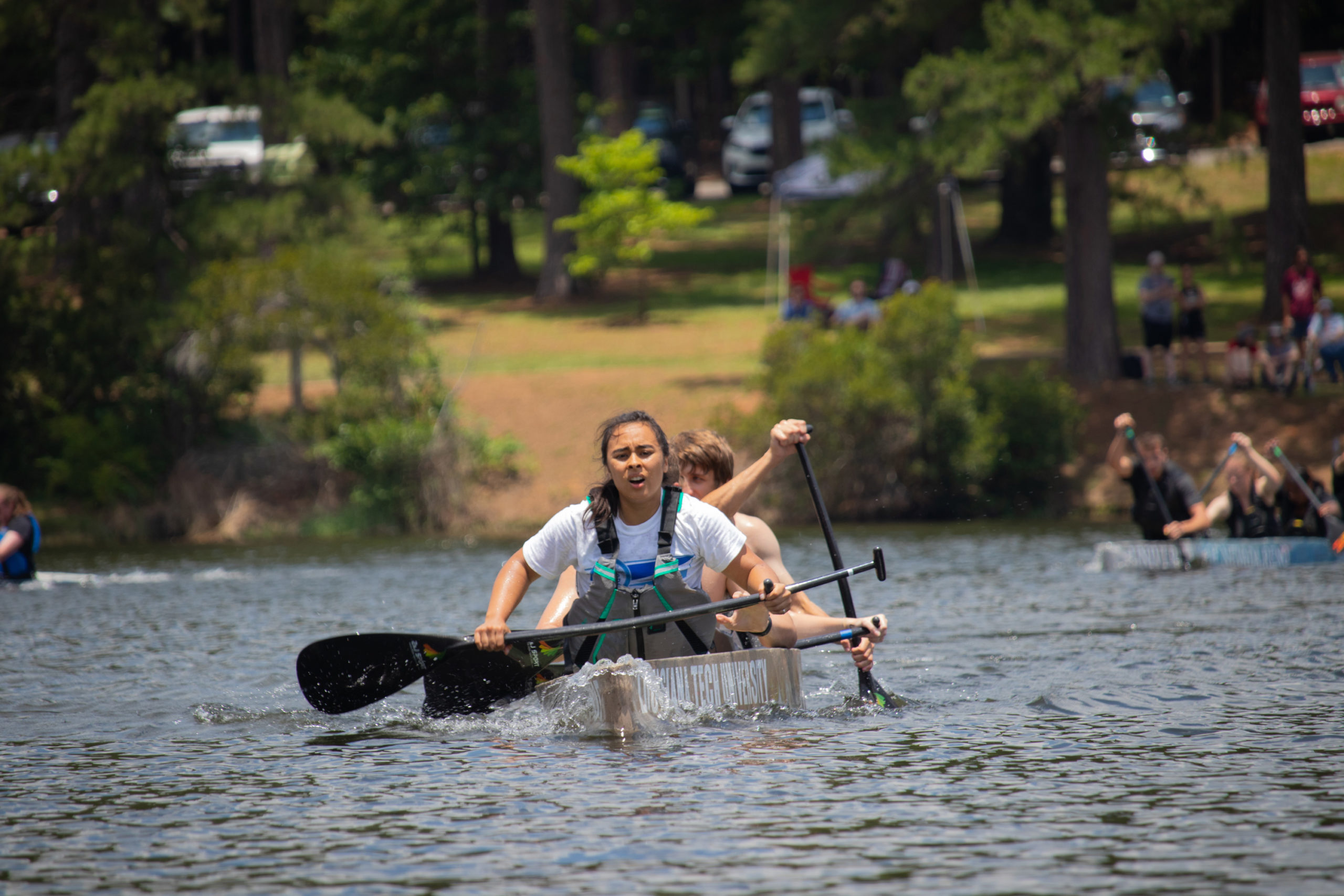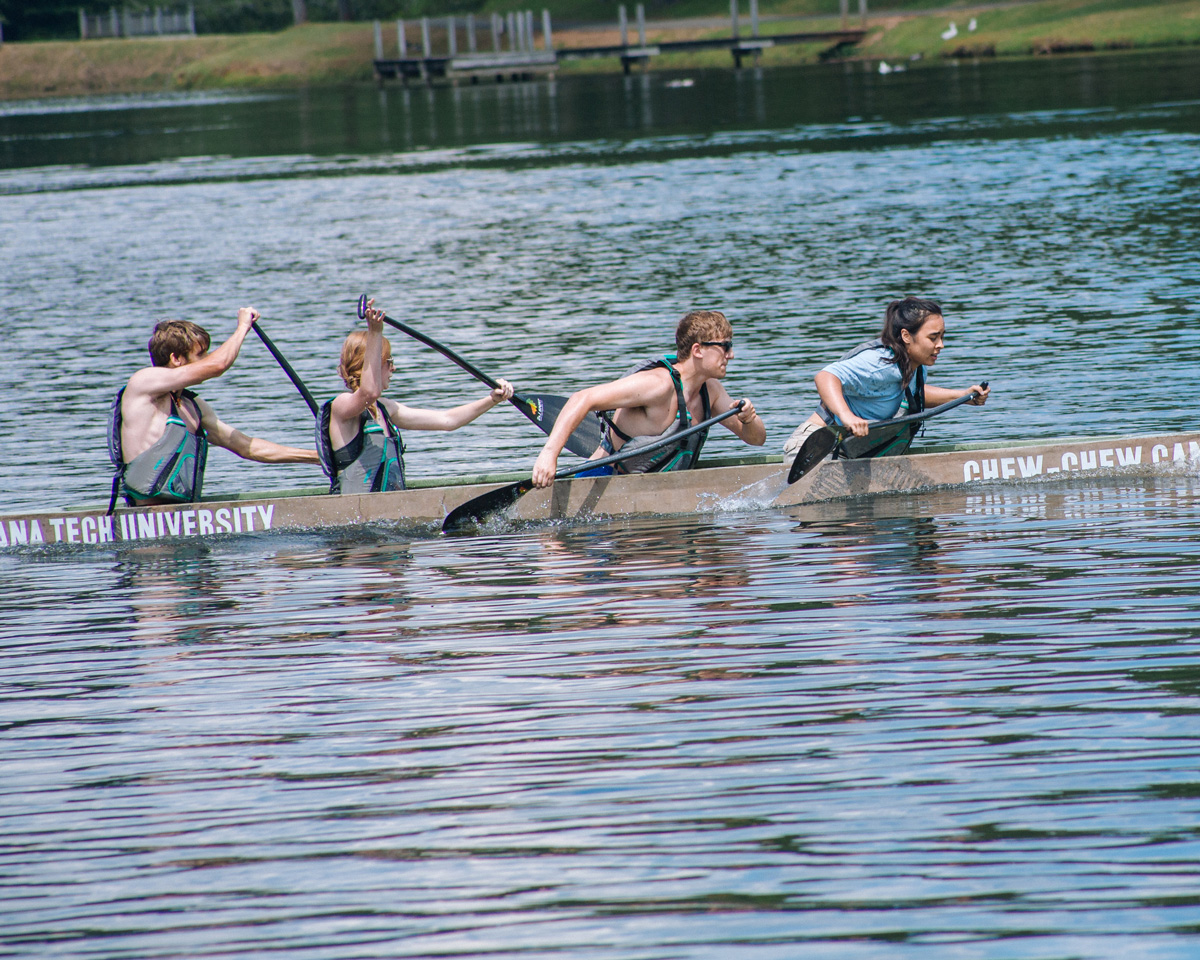 As a Louisiana Tech alumnus, it made me proud of our university and the College of Engineering and Science to see what a great job the students and faculty did to plan and execute this event. I heard from people outside the university all weekend who told me what a great job Tech did and how smoothly the event was run. I believe Tech will be talked about for many years as the standard for when other universities organize the same event.
"As a representative of Halff Associates, I enjoyed seeing the students work as a team and deliver on a year's worth of planning. In my role as the Construction Services practice leader at Halff, I enjoy the construction and delivery of plans from other engineers; thus, it was fun to see students doing the same and enjoying it. We met and spoke with students about their careers, gave advice and for some … future jobs.
"Halff's purpose is to improve lives and communities by turning ideas into reality. One of the ways we do that is supporting events such as the ASCE Concrete Canoe Competition+ that challenges students to be problem solvers, work together and take an idea from a concept to reality. 
"Today's college students will soon be the leaders of our industry, so investing in them is one of the greatest ways we can help them grow as individuals and further the growth of our industry. It is an easy decision to support Louisiana Tech and ASCE in events like this.