COLLEGE OF ENGINEERING & SCIENCE
Dr. Mickey Cox Honored Through Giving Opportunity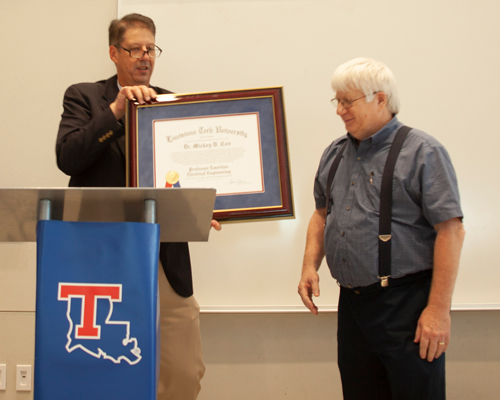 Dr. Mickey Cox has retired after teaching Electrical Engineering and Electrical Engineering Technology courses at Louisiana Tech for nearly 40 years. Over his years with the University, Dr. Cox has published dozens of articles and won numerous awards for his work in power systems communications, electromagnetic fields, and power systems. Most importantly, he taught generations of new electrical engineers to meet the challenges in their careers.
Students will miss Dr. Cox, who earned his B.S. and M.S. at Louisiana Tech, and his teaching style which was filled with colloquialisms and humor.
To learn how you can make a donation to the College of Engineering and Science in his honor, contact Devin Ferguson, Executive Director of Development, at devin@latechalumni.org or 318.497.7737.
Honor Dr. Mickey Cox's legacy.