Louisiana Tech, College of Engineering and Science receives gift from Entergy Louisiana
Louisiana Tech University's College of Engineering and Science recently received a $5,000 gift from Entergy Louisiana, LLC to benefit the College's industrial partnership program.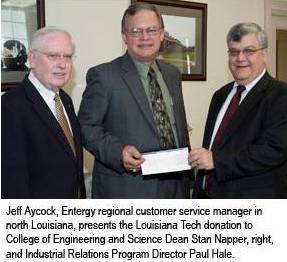 The donation, which was presented to college officials by Jeff Aycock, regional customer service manager in North Louisiana, will be used to sponsor the College's annual Senior Design Conference where senior science and engineering students are challenged to find solutions to "real-world" problems and present their findings to an audience of faculty and company representatives. "We are pleased to be able to support science and engineering at Louisiana Tech," Aycock said. "We believe in investing in education.  Not only will the students who graduate from the college be an incredible resource for Entergy, but they will be a resource for business and industry throughout the state as well." In addition to supporting the design conference, Entergy Louisiana's donation will be used by the College to bring industry leaders to speak to students and to support student travel to regional conferences and competitions. "By providing better educational opportunities today for tomorrow's future leaders, we will improve the lives of our customers through creating a stronger Louisiana," Aycock added. Entergy's Louisiana utility companies serve more than one million customers through the operating companies Entergy Louisiana, LLC and Entergy Gulf States Louisiana, L.L.C. With operations in southern, central and northeastern Louisiana, the companies are part of Entergy Corporation's electric system serving 2.7 million customers in Louisiana, Arkansas, Mississippi and Texas.