Engineering students take top honors at ASCE competition
Louisiana Tech University's student chapter of the American Society of Civil Engineers (ASCE) won first place in the concrete canoe competition during the 2012 Deep South Regional Conference held last week at The University of Tennessee-Martin.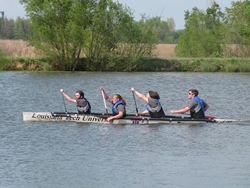 The Louisiana Tech steel bridge team, who also participated in the competition, won first place in the Economy category, second place in Display, and third place in Construction Speed. Louisiana Tech's student teams have been working on these engineering projects since fall quarter, applying what they have learned in the classroom.  Through the construction and competition, the students also learned about time management, leadership, and dedication. ASCE's Deep South Region is comprised of schools such as LSU, University of New Orleans, Mississippi State University, University of Mississippi, and Arkansas State University. Louisiana Tech's concrete canoe team will next compete at the national competition to be held in June in Reno, Nevada.
Louisiana Tech's students competed against students from 14 other southern universities in events such as concrete canoe, steel bridge, surveying, and the Mead Paper Student Contest.  The concrete canoe teams participate in endurance races, sprint races, technical papers, and aesthetics competitions. This is the fifth time that Louisiana Tech's concrete canoe team has won the regional competition and moved on to compete in the national competition. "The students participating in the ASCE competitions have dedicated a lot of time and effort to these projects," said Jane Petrus, student success specialist for Louisiana Tech's College of Engineering and Science.  "Outside of learning about concrete and steel, these students learn how to work in a team and communicate with professors, individuals in industry and other students.  The College is very proud of these students, and all students who go above and beyond in both their academics and extra-curricular activities." In addition to winning first place overall, the concrete canoe team also won first place in the Final Product/Aesthetics category, first place in Design Paper, first place in Co-ed Sprint, second place in Women's Sprint, and second place in Men's Sprint.