Louisiana Tech's Trenchless Technology Center launches digital reference room
800×600 Normal 0 false false false EN-US X-NONE X-NONE MicrosoftInternetExplorer4 /* Style Definitions */ table.MsoNormalTable {mso-style-name:"Table Normal"; mso-tstyle-rowband-size:0; mso-tstyle-colband-size:0; mso-style-noshow:yes; mso-style-priority:99; mso-style-parent:""; mso-padding-alt:0in 5.4pt 0in 5.4pt; mso-para-margin:0in; mso-para-margin-bottom:.0001pt; mso-pagination:widow-orphan; font-size:10.0pt; font-family:"Times New Roman","serif";}
The Trenchless Technology Center (TTC) at Louisiana Tech University has officially launched the Digital Trenchless Technology Reference Room, an international collection of nearly 28,000 trenchless technology citations and technical materials assembled over the past 17 years.
The Digital Trenchless Technology Reference Room is an electronic and web-based version of the original reference room, which was established in 1995 and houses one of the largest collections of technical papers, books, technical reports and trenchless-related product information in the world.  It has drawn donations of trenchless technology materials and attracted researchers from around the world.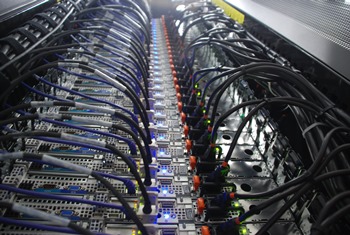 "I view the digital reference room as a strategic initiative to enhance the standing of the TTC across the nation and around the globe," said Dr. Erez Allouche, director of the TTC and associate professor of civil engineering at Louisiana Tech.  "The digital reference room currently contains only citation information, but our goal is to make at least 40 percent of the resources available as full-manuscripts by the end of 2014.
"This project is a major accomplishment that represents many thousands of person-hours invested over a period of 17 years."
Allouche says the TTC is in the process of uploading its own technical reports and publications.  They are also negotiating with several larger copyright owners to develop means of accessing full-length manuscripts, either by hosting them on the TTC server or by providing links to the full-length articles on other servers.
"The Digital Reference Room exemplifies Louisiana Tech's global leadership and relevance to the trenchless technology industry," said Dr. Stan Napper, vice president for research and development at Louisiana Tech.  "We are pleased to be the center of new technology development and the center of experience and information for our students and partners."
Over the past two decades, the TTC has become a leading research facility for the development of technologies influencing almost every aspect of trenchless construction methods and has served as a point of reference for representatives of the trenchless industry.  The TTC evolved from the Trenchless Excavation Center at Louisiana Tech, established in 1989 by Dr. Tom Iseley, with a primary focus on microtunneling and horizontal directional drilling.  Expanding its reach to other trenchless technologies, the structure and name was changed to the Trenchless Technology Center in 1991.
"A great deal of credit goes to Dr. Ray Sterling, Ms. Jadranka Simicevic and Ms. Teresa Fletcher for the time and effort they have devoted to the creation of this resource," Allouche said.  "Mr. Victor Weston and the Louisiana Contractors' Educational Trust Fund also deserve our recognition and appreciation for providing the financial support to make this project a reality."