PROGRAMMING SUCCESS: Cyber engineering positions graduates, region to lead industry
This is the fifth article in a six-part series highlighting academic programs at Louisiana Tech University that are having significant impacts on the region and whose graduates are contributing to the growth of the economies, communities and competitiveness of north Louisiana.
RUSTON, La. – Cyber is everywhere. From the way we communicate to the way we buy goods and services to the way we share information, our lives and activities today are largely reliant on a strong and secure global cyber infrastructure. "As a society, we are becoming more and more cyber connected," says Dr. Travis Atkison, assistant professor and program chair for cyber engineering at Louisiana Tech University. "To understand the scope and impact of cyber engineering, we need to take a step back and recognize that cyber is everywhere. And for that reason, we need people versed in this area who understand its impact. That's where cyber engineering comes in."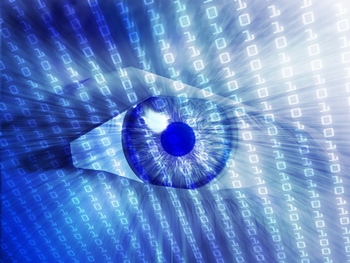 Cyber engineering at Louisiana Tech is a multidisciplinary program that integrates both electrical engineering and computer science, and concentrates on engineering in the cyberspace domain with a focus on security. It also incorporates a liberal arts perspective that engages cyber engineers in the political and social issues presented in cyberspace. Students will not only have technical knowledge, but an understanding of associated security concerns, social and political impacts, and ethical consequences. Students engage in a variety of courses and experiences designed to motivate the application of theoretical concepts and to promote discovery of the underpinnings of electrical engineering and computer science. Combining intense coursework and open-ended problems, the projects-based cyber courses provide students with an immersion in cyber engineering. "There is a constantly growing need for scientists, engineers and practitioners to gather and employ today's information in order to improve our lives and develop innovative solutions to solve the problems of the future," explains Dr. Sumeet Dua, professor of computer science and director of Louisiana Tech's computer science, electrical engineering, industrial engineering, cyber engineering and electrical engineering technology programs. "Cyber growth, while opening several doors of opportunity, offers its fair share of threats. Cybercrime is one of the fastest growing threats in the world, posing risk to everyone's privacy, finances and more." For Louisiana Tech's cyber engineering students to contribute immediately upon graduation and to lead this global industry into the future, they need hands-on experiences and the opportunity to apply their skills to real-world problems. One such experience is the annual Cyber Storm competition.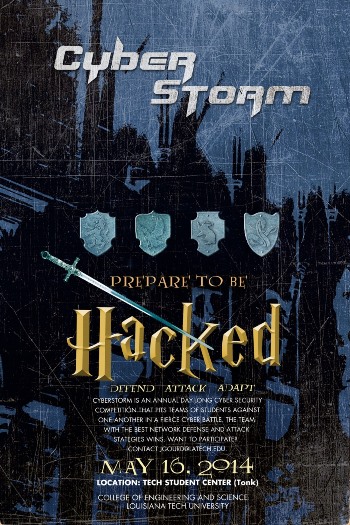 Cyber Storm, which serve as the final exam for students in the program's Introduction to Cyber Security and Computer Network Security courses, is a day-long "hackfest" where student teams from cyber engineering and computer science engage in a fierce battle in cyberspace to test their skills in network defense and attack strategies. Cyber Storm is designed to raise awareness about the problems our society faces in cyberspace. "The competitive part of Cyber Storm is only there for fun," said Dr. Jean Gourd, assistant professor and program chair of computer science at Louisiana Tech. "But it can also serve to show the kinds of fast-paced scenarios that can actually play out in the real world. The students participating in the competition often tell me that they learn more from the single-day event than they do in the entire course. I suppose that this is a good thing as it tries to recreate real-world experiences." The demand for professionals with cyber engineering-related skills and experiences, in a number of product and service industries, is already high and is forecasted to continue to grow. The U.S. Department of Labor's Bureau of Labor Statistics reports a 20-30 percent increase in demand for experts in cyber security and computer science fields over the next 10 years. Dua says cyber engineering graduates can make active contributions in the fields of computing as well as in sub-fields of cybersecurity, systems design and engineering, big data science, enterprise software design, and digital media. "Our graduates can also apply their skills to challenges that rely on digital media and network to manage their core business assets. These can include, but are not limited to fields in the energy sector, defense sector, medicine and social media." Louisiana Tech is playing a pivotal role in growing the cyber services and security industries, and is providing graduates with outstanding opportunities to connect with global industry leaders, right here in north Louisiana. A partnership with global IT leader Computer Sciences Corporation (CSC) and the Cyber Innovation Center (CIC) in Bossier City was announced in February and will offer a comprehensive suite of CIS, cyber and computer science programs that are designed to meet the current and future needs of CSC, and will result in unique career opportunities for graduates. The partnership with CSC and CIC is expected to have an 800 direct jobs impact statewide, within the next four years, and will expand the state's knowledge economy by keeping more of Louisiana Tech's graduates, from high-tech and high-demand fields, working within Louisiana. In addition, Louisiana Tech's relationship and collaborations with the CIC over the past several years have led to the development of programs such as the Cyber Discovery Camps, the Cyber Engineering Research Conferences and Science, Technology, Engineering and Mathematics (STEM) initiatives that will help to create the next generation of scientific thinkers and innovators in the region. Atkison says there are only a few other universities across the country that have similar cyber engineering programs and none that have a fully-developed, four-year degree program like Louisiana Tech. "Ours is the first program of its kind in the nation to concentrate on engineering in the cyberspace domain," Atkison said. "Cyber engineering emphasizes security of systems as a fundamental research and development mantra to solve important problems. Louisiana Tech's program is very hands-on and project oriented." "The demand for cyber engineers will continue to grow in both traditional computing and non-computing areas," said Dua. "Small-scale businesses to large corporations and governments of both developing and developed countries will need cyber professionals to protect their assets and grow them. This is an exciting time in the world of cyber engineering and Louisiana Tech is already ahead of the curve in offering an innovative, immersive and comprehensive cyber education experience." For more information on Louisiana Tech's cyber engineering program, visit http://coes.latech.edu/cyen. Information on Louisiana Tech's partnership with and programs to support CSC and the CIC can be found at http://ace.latech.edu.