Cyber engineering students place at NSBE Cyber Case Competition
A team of students from the Louisiana Tech University chapter of the National Society of Black Engineers (NSBE) placed second in the EMC Cybersecurity Case Competition at the 41st annual NSBE convention held recently in Anaheim, California.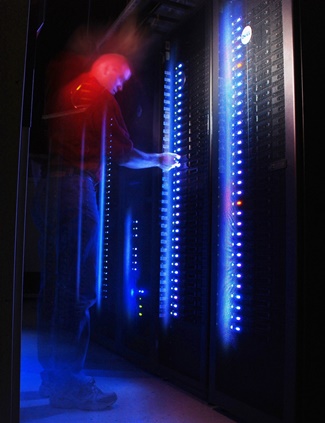 During the competition, Aneatria Watson and Ashleigh Mulamula, cyber engineering students from Louisiana Tech, used a multi-tiered approach to track international mobile subscriber identity catchers and prevent hackers from exploiting tools already in place, thus protecting phones and towers from eavesdropping devices. "Our cyber engineering program provides students like Aneatria and Ashleigh with an outstanding education and tremendous career opportunities on graduation," said Dr. Jenna Carpenter, associate dean of undergraduate studies for Louisiana Tech's College of Engineering and Science. Watson and Mulamula were able to address real-world cyber threats at the convention using techniques learned in their cyber engineering program at Louisiana Tech. They applied information provided to them by engineers at the annual event to develop solutions which they presented to IT leaders from EMC Corporation and Cisco, who co-sponsored the competition. NSBE is dedicated to the academic and professional success of African-American engineering students and professionals and offers its members leadership training, professional development activities and mentoring opportunities. There are over 200 collegiate chapters of NSBE in the United States. "The cyber engineering members of our NBSE chapter have demonstrated outstanding leadership and enthusiasm to win a silver medal for their original, conceptual solution to a cybersecurity challenge topic," said Dr. Sumeet Dua, director of electrical engineering, electrical engineering technology, computer science, and cyber engineering at Louisiana Tech. "This recognition demonstrates that Louisiana Tech engineers are at the forefront of the technological advances in their areas." "We are so proud of Aneatria and Ashleigh. Our NSBE chapter does a great job of mentoring students and has won numerous national awards, such as this one, in recent years for their efforts," Carpenter added. Cyber engineering at Louisiana Tech is a multidisciplinary program that integrates both electrical engineering and computer science, and concentrates on engineering in the cyberspace domain with a focus on security. It also incorporates a liberal arts perspective that engages cyber engineers in the political and social issues presented in cyberspace. Students will not only have technical knowledge, but an understanding of associated security concerns, social and political impacts, and ethical consequences. Students in the cyber engineering program engage in a variety of courses and experiences designed to motivate the application of theoretical concepts and to promote discovery of the underpinnings of electrical engineering and computer science. Combining intense coursework and open-ended problems, the projects-based cyber courses provide students with an immersion in cyber engineering.
Written by Brandy McKnight – mcknight@latech.edu