Cyber engineering, computer science students prepare for 'Cyber Storm'
A "Cyber Storm" warning has been issued for Louisiana Tech University for Friday, May 15. Beginning at 9:00 a.m. in the Louisiana Tech Student Center, Cyber Storm 2015 will pit five teams of computer science and cyber engineering students from the College of Engineering and Science against each other and other unknown intruders from academia, industry and government institutions, in a day-long "hackfest." The student teams will engage in a fierce battle in cyberspace to test their skills in network defense and attack strategies.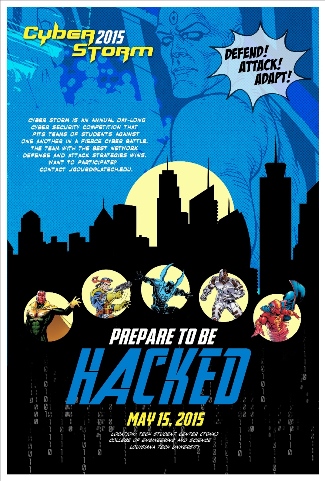 The competition serves as final exam for selected courses in the cyber engineering and computer science programs at Louisiana Tech, and tests the student's ability to prepare, anticipate and react to a number of real-time threats and scenarios. The event is free to attend and members of the campus and local communities are invited to attend. "The goal of Cyber Storm is primarily to raise awareness about cyber security," said Dr. Jean Gourd, associate professor and program chair of computer science at Louisiana Tech. "It also provides a unique way for Louisiana Tech students, high school students, industry representatives, academicians and other organizations to get together and participate in a fun 'hackfest' that features both defensive and offensive cyber security." This year's Cyber Storm theme is "superheroes" with teams called Blue Beetle, Cyborg, Forge, Red Tornado and Vision pitted against each other and against the administrative team known as Dr. Manhattan. Other "black-ops" and challenge teams include The Dark Knight and Ultron. Cyber Storm 2015 will feature a specially-designed, custom infrastructure to support the competition and team engagement. In addition to hardware and network configuration, event organizers are further designing and implementing a number of critical components that will provide challenges and overall situational awareness during the competition. These include elements such as live scoring and messaging, real-time visualization of the network, "King of the Hill" and "Capture the Flag" challenges, cyber security related challenges, cryptography and steganography challenges, wireless network access challenges, cyber scavenger hunts and "Black Boxes" with unknown vulnerabilities. "The Cyber Storm competition is truly one of the most hands-on experiences in cyber security that students will have," Gourd said. "After the event, many students often say that they learn more from this 8-hour event than from the entire course that it culminates." Cyber Storm is hosted by the computer science and cyber engineering departments Louisiana Tech with active participation and engagement from industry organizations such as the Cyber Innovation Center and Computer Sciences Corporation (CSC). Gourd says this industry involvement is critical to providing students with a real-world perspective of work in the cyber domain and the opportunity to learn from leading IT experts and companies. They are also able to learn first-hand about some of the amazing career options that exist here in north Louisiana. "Industry participation from world-class companies such as CSC helps us to provide a more realistic experience for our students," explains Gourd. "The most appreciated aspect is that our students can interact in a variety of ways with industry folks and learn from their applied experience." For more information on Cyber Storm at Louisiana Tech, please visit http://coes.latech.edu/cyen/CyberStorm.