ExxonMobil donates to COES programs
Representatives from ExxonMobil Corp. visited Louisiana Tech University recently to present a $22,000 donation to programs in the College of Engineering and Science, which will be disbursed among the chemical, civil, electrical, and mechanical engineering departments.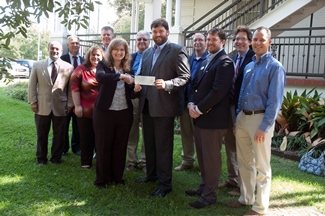 "We are greatly appreciative to Exxon for their continued support for our engineering programs," Dr. Hisham Hegab, dean of the College of Engineering and Science, said. "These funds allow us to enhance the academic experience of our students and recruit and retain high quality faculty." In addition to monetary donations, ExxonMobil recruits engineering and science graduates for careers with the company and participates in networking events at the University. "This support helps the College to produce the type of graduates that Exxon has come to expect from Louisiana Tech year after year," Hegab said. "This donation helps to support many of the College initiatives as we work to provide opportunities for our students," said Dr. Heath Tims, associate dean for undergraduate studies in the College of Engineering and Science. The College of Engineering and Science uses a hands-on approach to education to provide students with real-world experience and to promote diversity throughout engineering and science fields. Funds such as those donated by ExxonMobil are used for a variety of purposes including scholarships, field trips, equipment, and student and faculty travel.
Written by Brandy McKnight – mcknight@latech.edu