COES to host STEM diversity panel discussion
Louisiana Tech University's College of Engineering and Science will host a discussion titled, "Building the Team: A Panel Discussion about Diversity in STEM," at 3:00 p.m., April 6 in Howard Auditorium on the Louisiana Tech campus.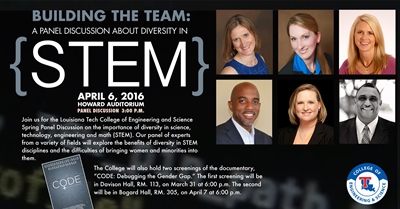 The panel will consist of six industry experts from fields within science, technology, engineering and mathematics (STEM). The panelists will discuss the importance of diversity within STEM fields, why diversity is important in STEM both within academia and beyond, strategies used in industry to increase diversity, and problems they have faced in increasing diversity within their fields. Panelists include Dr. Jodi Cooley, associate professor of physics at SMU; Kristin Ginn, drilling engineering manager of tools and processes at GE Oil & Gas; Amy Hooper, superintendent of specialty polymers department at Eastman Chemical; Melerick Mitchell, founder and CEO at Drive Influence; Stephanie Polk, vice president for information technology at CenturyLink, Inc.; and Shelly Gorordo, senior program manager at CSRA, Inc. Hilton Nicholson, founder and CEO of CyberReef Solutions and former president of the Louisiana Tech Engineering and Science Foundation Board, will moderate the event. "We are excited to host this event for our students and faculty," said Dr. Hisham Hegab, dean of the College of Engineering and Science. "Diversity in our engineering and science workforce has been an ongoing challenge in our country for many years. It is a challenge we need to tackle in order to provide the best possible solutions to the complex problems of our day. "I am very grateful to the industry experts we have been able to assemble for this event and am looking forward to the insights they will provide on this topic." In addition to the panel discussion, the College of Engineering and Science will hold two screenings of the film documentary, "CODE: Debugging the Gender Gap."  The first screening will be held at 6:00 p.m., March 31 in Davison Hall – room 113.  The second screening will be held at 6:00 p.m. April 7 in Bogard Hall – room 305. The panel discussion and the screenings are free and open to the public.
Written by Brandy McKnight – mcknight@latech.edu