Louisiana Tech graduates complete medical school at LSUHSC-Shreveport
Thirteen recent Louisiana Tech University graduates have earned their Doctor of Medicine (M.D.) degrees after graduating this spring from Louisiana State University Health Sciences Center School of Medicine in Shreveport.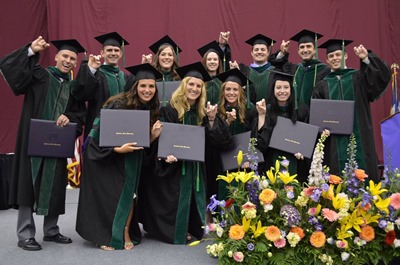 All 13 of these students successfully gained admission to medical school upon graduation from Louisiana Tech, applying the skills and the quality educational and research experiences each of them received while at Tech.  Each graduated Louisiana Tech between the winter 2011 and winter 2012 quarters. "The Department of Biology at Louisiana Tech fosters an environment that offers key advantages to medical school applicants," said Dr. Kevin Hebert, a 2012 graduate of Louisiana Tech who will be doing his residency at the Mayo Clinic in Rochester, Minnesota.  "Small class sizes and approachable world-class professors are two unique qualities Louisiana Tech provides. These characteristics were instrumental in learning a solid biology foundation needed to success in medical school and beyond." "We are very proud of all of these students who have successfully completed their medical school education and are now moving into their residencies," says Dr. William Campbell, director of the School of Biological Sciences at Louisiana Tech. The new M.D.s are listed below with their year of graduation and degree from Louisiana Tech, and their medical residency.
Alex Bellone (winter 2012 – biological sciences): Oklahoma City, Oklahoma – Pediatrics
Courtney Bundrick (spring 2012 – biological sciences): University of Arkansas, Little Rock – Internal Medicine
Arthur Grimes (winter 2012 – biological sciences): University of Oklahoma, Oklahoma City – General Surgery
Erin Haifley (winter 2011 – biological sciences): LSU Health, Shreveport – Medical Education
Christina Hayward (spring 2012 – biological sciences): Baylor School of Medicine – Internal Medicine
Kevin Hebert (spring 2012 – biological sciences): Mayo Clinic, Rochester MN – Urology
Dylan Jason (spring 2012 – biological sciences): UT Southwestern – General Surgery
Lauren McCalmont (spring 2012 – biomedical engineering): LSU Health, Shreveport – OB/GYN
Nick McDonald (spring 2012 – biological sciences): LSU Health, Shreveport – Medical Education
Frankie Pedigo (spring 2012 – biological sciences): University of Mississippi – Internal Medicine
Wesley Reeves (spring 2012 – biological sciences): Texas A&M – Anesthesiology
Megan (Carroll) Smalley (spring 2012 – biomedical engineering): LSU Health, Shreveport – Internal Medicine
Ashley Vorenkamp (spring 2012 – chemistry): University of Alabama, Birmingham – Internal Medicine