COES students help move and construct playground equipment for City of Ruston
College of Engineering and Science students recently helped the Ruston Parks and Recreation Department move and construct playground equipment at Mayfield Park.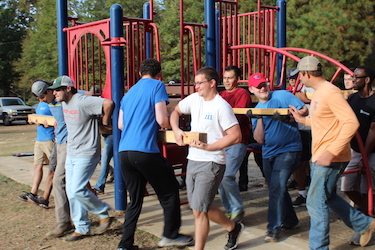 Members of the Louisiana Tech chapters of Associated General Contractors (AGC), North American Society for Trenchless Technology (NASTT) and Bulldogs without Borders worked with the Ruston Parks and Recreation Department to move a play system and install two pieces at Mayfield Park. Director of Civil Engineering, Construction Engineering Technology and Mechanical Engineering with Louisiana Tech's College of Engineering and Science, Dr. David Hall, was also on hand for the project. "I was surprised by how quickly we were able to move the playground to the new location," Hall said. "The students unbolted the system, splitting it into four large pieces, and then literally carried the pieces across the road … there's definitely strength in numbers. I'm impressed by our students' desire to help out on a service project to benefit the children in our community." Construction Engineering Technology major and leader of the AGC and NASTT teams on the project, Mallory Walters says that projects like the playground project provide students a chance to get hands-on experience outside the classroom and provide the community with the opportunity to leverage student expertise. "We love getting out in the community and showing them what our organization represents," Walters said. "We have done it the last couple years and love the outcome!" Walters added that the AGC and NASTT organizations also participated in an Engineering and Science Day with third grade students at the A.E. Phillips Laboratory School at Louisiana Tech.
Written by Brandy McKnight – mcknight@latech.edu