Civil engineering students earn scholarships from DOTD
Ten Louisiana Tech University students majoring in civil engineering have each earned $1,000 scholarship awards from the Louisiana Department of Transportation and Development (DOTD). Cameron Broussard, Cody Abshire, Hunter Calhoon, Lane Brister, Matthew Upshaw, Ryan Barton, Stetson Keen, Taylor Cappe, Tyler Bridges and Victor Seth Bivens were selected from a highly-accomplished pool of applicants from across the state. They received the scholarship awards from DOTD Secretary Shawn D. Wilson at a ceremony held at the DOTD headquarters in Baton Rouge.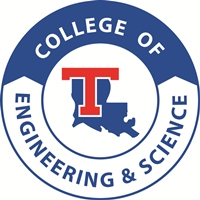 The scholarships are funded by the Southeastern Association of State Highway and Transportation Officials (SASHTO), Louisiana DOTD, and the Louisiana Transportation Research Center (LTRC), and are awarded to juniors and seniors in civil engineering programs across the state. Students are selected by transportation officials from the DOTD as well as representatives from universities throughout Louisiana. Dr. Nazimuddin "Wasi" Wasiuddin, associate professor of civil engineering and construction engineering technology and advisor of the Transportation Leadership Council at Louisiana Tech, says that the scholarships illustrate that Louisiana Tech Civil Engineering students are well prepared for the industry after graduation. "Louisiana DOTD puts special emphasis on summer internship, co-op, and industry experiences in the transportation area when awarding these competitive scholarships," said Wasiuddin.  "The involvement of students in transportation-related activities here at Louisiana Tech also plays a key role in scholarship decisions. The Transportation Leadership Council (TLC), a student group at Louisiana Tech, which is organized under our American Society of Civil Engineers student chapter, hosted a number of outside speakers and participated in activities to build student leaders in the transportation industry. "The success of our students in securing these scholarships reflects their readiness to serve the State and the transportation industry, and we are thankful to Louisiana DOTD, SASHTO and LTRC for their support." Dr. David Hall, director of the civil engineering and construction engineering technology programs at Louisiana Tech and associate director of the Southern Plains Transportation Center, says that scholarships such as those offered by the DOTD help students leverage their time for educational activities. "Scholarship funds reduce financial stress for students, providing a financial boost that allows them to focus more on their studies and involvement in campus life," Hall said. "We have worked to expand student exposure to the transportation industry through the TLC, and I am thrilled that our students have the academic background, work experience, and campus activities needed to successfully compete for these scholarships." The Louisiana Tech applicants' internship experience and interests in the transportation field, along with their outstanding grade point averages, earned them the awards.
Written by Brandy McKnight – mcknight@latech.edu