Computer science, cyber engineering students weather 'Cyber Storm'
Computer science and cyber engineering students in Louisiana Tech University's College of Engineering and Science competed recently against each other and a black ops team of intruders from academia, industry and government institutions in the 2017 Cyber Storm – Louisiana Tech's daylong "hackfest" competition. Each year, Cyber Storm tests what upper-level computer science and cyber engineering students have learned by providing them with the opportunity to complete challenges and earn points using networks that they have built. Student teams completed challenges on cyber security, wireless network and steganography and cyber scavenger hunts.  Cyber Storm is designed to raise awareness about the problems our society faces in cyberspace.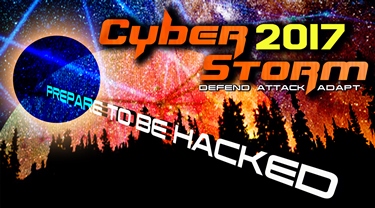 This year's constellation theme pitted the Phoenix, Taurus, Canis Major, Canes Venatici, Chamaeleon, Draco, Crater and Vulpecula teams against one another and against the black-ops team, Orion. An administrative team, Libra, deployed and scored the challenges. Past themes have included Sith vs. Jedi, Greeks gods, the Houses of Hogwarts, superheroes and video game characters. Dr. Jean Gourd, associate professor of computer science and cyber engineering and program chair of computer science, says that the students were able to solve an assortment of challenges quickly, keeping the competition close. "This year's event focused on a variety of cyber security challenges spanning cyber security," Gourd said. "The favorite was Dr. Gourd's Scavenger Hunt (worth 100,000 points), which combined elements of cryptanalysis, timing and storage covert channels, time-based access control and steganography. The winning team, Phoenix, won with 410,000 total points, a mere 5,000 points more than the second place team, Vulpecula." The annual Cyber Storm event features a specially-designed, custom infrastructure to support the competition and team engagement. In addition to hardware and network configuration, event organizers are further designing and implementing a number of critical components that will provide challenges and overall situational awareness during the competition.  These include elements such as live scoring and messaging, real-time visualization of the network (including attacks), "King of the Hill" and "Capture the Flag" challenges, cyber security-related challenges, cryptography and steganography challenges, wireless network access challenges and cyber "scavenger hunts." Cyber Storm is hosted by the Computer Science and Cyber Engineering programs and is sponsored by the Cyber Innovation Center, CSRA and the College of Engineering and Science. For more information, visit
http://coes.latech.edu/cyen/CyberStorm
.
Written by Brandy McKnight – mcknight@latech.edu