First-year engineering students showcase product prototypes
Teams of first-year Louisiana Tech University engineering students presented prototypes of their innovative products at the 2017 Freshman Design Expo held recently in the Student Center at Louisiana Tech University.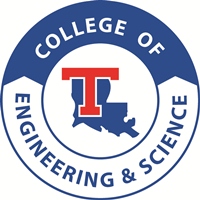 Students showcased their expertise in research and design by presenting products that they created with Arduino and Raspberry Pi microcontrollers, to judges and attendees. The prototypes are the culmination of a yearlong, project-based learning experience that first-year engineering students at Louisiana Tech participate in as a part of the innovative, hands-on Living with the Lab and Living with Cyber programs. At the Freshman Design Expo, students explain the product concept, hardware and software components, interface, capabilities, limitations, economic viability and future development plans. "The student teams dreamed up these products and created working prototypes in about four weeks," Dr. David Hall, director of mechanical engineering, civil engineering and construction engineering technology at Louisiana Tech said. "I couldn't be more proud of what they accomplished, and I appreciate the judges who volunteered to evaluate the products." Selected teams receive awards for first through third place overall as well as opportunities to earn the "Shoot the Moon" award for a tough project that may not function completely, the "Da Vinci" award for the most creative project, the "Can-Do" award for the most difficult project that works, the "Rolex" award for the best constructed prototype and the "Patent Pending" award for the most novel yet practical idea. Award winners for the 2017 Freshman Design Expo are as follows:
First Place: Multi Defense Military Mask team (Daniel Kumler, Logan McCarthy, Devin Tooley and Jordan Ponder),
Second Place: Learn Your Brain team (Tyler Fontenot and Logan Morreale),
Third Place: Aurora Eyeware team (Ben Steib, Brock Kappel, Christopher King and Stephen Bass),
Rolex Award: Ready Racks team (Ryan Schaefer and Andrew Vidrine),
Da Vinci Award: Mecha-Mute team (David Tomshe, Jared Headrick, Brett Mascaro and Gracie Gill),
Patent Pending Award: Food-O-Matic 2000 team (Jeffrey Deroche, Dakota Stein and Leann Tengowski),
Shoot the Moon Award: Prosthesis Express team (Hunter Adams, Stephen Gordon, Jordan Fleming and Jackson Debevec), and
Can-Do Award: Mr. Sandman team (Nick Lipscomb and Abby Walker).
Written by Brandy McKnight – mcknight@latech.edu