Project creates career paths for the STEM workforce
Louisiana Tech University is collaborating with Louisiana Delta Community College (LDCC) to promote science, technology, engineering, and math (STEM) technology career pathways for students from seven high schools in North Louisiana.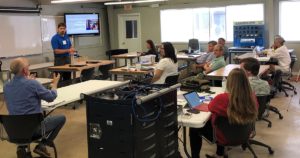 Called Project COMPLETE, it began with two recent kickoff workshops. Teachers and counselors learned about the high-need career field of instrumentation and examples of hands-on projects that can be used to teach basic electricity concepts. Each teacher went home with project kits for their classrooms. This collaboration between LDCC and Tech is possible because of a grant provided by the National Science Foundation (NSF) Advanced Technological Education Program. The NSF is an organization striving to provide more opportunities across diverse geographic regions for underrepresented groups who may wish to join the STEM workforce. Working together, the Tech/LDCC team is proud to offer this program that will enhance future opportunities for high school students and North Louisiana citizens. The grant team is also working with a group of industry advisors to provide career information for students and parents. "The quality of the workforce in today's craft is aging," said Matt Pullin, an industry advisor from PCI Electric in Ruston. "We need the young people to come in with ambition to continue the legacy of qualified electrical and instrumentation technicians." Gerry Caskey, LDCC Ruston Campus Industrial Instrumentation Instructor and the grant's principal investigator (PI), said there is a growing need for skilled technicians. "This means great opportunities for students who have the necessary skills," Gaskey said. "Project COMPLETE will provide an introduction into the field of Industrial Instrumentation, which will help students prepare for those jobs." The skills and knowledge that high-school students will gain going through this program will start them on a path filled with opportunities in a world where industry is increasingly driven by technology," said Dr. Michael Swanbom, Distinguished Lecturer in Mechanical Engineering at Tech and the grant's co-PI in charge of curriculum development. Schools participating in Project COMPLETE include West Ouachita High School, Quitman High School, Darbonne Woods Charter School, Bossier Parish School for Technology & Innovative Learning (BPSTIL), Summerville High School, Haynesville High School, and Homer High School. For more information or to partner with Project COMPLETE, contact Coordinator Juliette A. Pate at Ashleypate@LaDelta.edu.