Colleges partner to host FIRST Robotics Competition Kickoff
Louisiana Tech University hosted teams from nine local high schools to kick off the second annual FIRST (For Inspiration and Recognition of Science and Technology) Robotics Competition.
Participants, including students, faculty and staff from Louisiana Tech's Colleges of Engineering and Science and Education, gathered in the University's Integrated Engineering and Science Building in Ruston, where they brainstormed, shared ideas, picked up building kits, and watched as FIRST Robotics unveiled the 2020 competition theme: Infinite Recharge.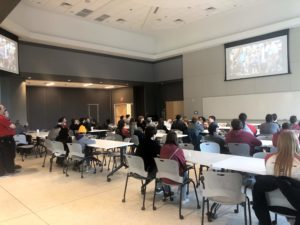 Over the next six weeks, teams will create droids using limited resources. They will also develop allegiances to protect  FIRST  City from approaching asteroids caused by a distant space skirmish.  Each alliance will use its droids to collect power cells that will energize the team's shield generator. Near the end of the match, alliances will race their droids and power cells to their rendezvous point to power their shield generator and protect the city.
During the competition, students will have the opportunity to gain real-world experience in a number of areas: In addition to engineering the robots, they will raise funds, design a team brand and present in front of judges. To complete the challenge, teams engage in project management, communication, and leadership – skills that will prepare them for higher education or the workforce after high school.
Sam Greer, a second-year electrical engineering student from Vicksburg, Mississippi, coordinated the event in Ruston. As a participant, Greer  learned new processes as well as how to collaborate with his peers to accomplish goals.
"As a college student, I enjoy seeing the high school students that are participating now going through the same things that I did: the learning, teaching, winning, and losing," Greer said. "All of these things are what FIRST Robotics is all about, and it all leads to building people up to be prepared for life. I am excited to be able to bring high school students from across the region together to see them start a new design season."
"We appreciate the opportunity to collaborate with the Science and Technology Education Center (SciTEC) and high schools around the area to present interdisciplinary projects like the FIRST Robotics Competition," said Dr. Heath Tims, associate dean of undergraduate studies for the Tech College of Engineering and Science. "We are happy to be able to use our new Integrated Engineering and Science Building to host events like the competition kickoff. We work with many high school partners on outreach activities, and the new space provides us with more opportunities to showcase engineering and science and Louisiana Tech."
Founded in 1989, FIRST (For Inspiration and Recognition of Science and Technology) is an international science, technology, engineering, and mathematics non-profit organization that teaches 21st century life skills and helps students become innovative problem solvers able to tackle the world's greatest challenges.
"With the continued growth of FIRST programs in Northern Louisiana, we need community partners in education and industry to give students the best experience possible." FIRST Robotics' Carolyn Arthurs said. "Tech's commitment to support our program and offer resources to our teams not only gives us crucial components for success and sustainability, but also gives our students a model of excellence in education to consider for their future educational paths. We're looking forward to adding even more resources for FIRST participants, including a scholarship to the College of Engineering and Science."
Qualifying teams at district and regional competitions have the chance to win a spot in the FIRST Robotics Competition Championship, which takes place April 15-18 in Houston and April 29-May 2 in Detroit.
To volunteer as a mentor for local teams, email Arthurs at carthurs@firstinspires.org. To learn more about STEM outreach and education partnership opportunities, email scitec@latech.edu.