Construction Engineering Technology graduate continues to excel in construction management
What does it take to secure and lead multiple multimillion-dollar projects?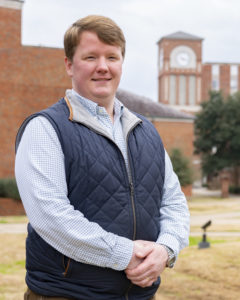 For Louisiana Tech University alumnus Andrew Halbrook (Construction Engineering Technology, '13), the answer is a long one. Success is the combination of the willingness to put in long hours for research, the technical expertise to understand information and jargon from multiple sources, the capacity to communicate that information into a grant proposal, and the ability to balance new grant proposals with current duties.
Luckily for Halbrook, he learned all those skills in the Construction Engineering Technology program at Louisiana Tech.
"As a student at Louisiana Tech, I learned to navigate real-world situations. The Construction Engineering Technology program helped me understand how to manage multiple aspects of a project simultaneously. I learned how to plan, budget for and implement large projects. As a member of the Greek system and intramural sports at Tech, I also learned how to balance my time between schoolwork and extracurricular activities."
Halbrook, an Engineering Technology Manager for the City of Ruston, manages the design and construction of reliable public infrastructure for the town. In that capacity, he manages several City grants, ensuring that funds support major projects, like road improvements. He also helped secure a $17.2 million BUILD grant that will fund seven new projects throughout Ruston and Louisiana Tech, creating safer, more reliable bicycle lanes and roadways.
To secure the BUILD funding for Ruston, Halbrook researched and wrote the majority of the grant application, using information from various sources, including the Ruston Police Department, national crash databases, the Louisiana Department of Transportation and Development and Louisiana Tech, all while managing millions of dollars in existing grants, including the Moving Ruston Forward and the Rock Island Greenway Network initiatives.
He says that the Louisiana Tech Construction Engineering Technology program helped him learn to balance his time and to integrate information from various sources, which are key skills that students enrolled in College of Engineering and Science majors learn early in their academic careers and are reiterated through the Senior Projects Conference held each May.
"My Senior Projects team got real-world experience in city management projects. We were able to bid out a City of Ruston project and communicated directly with contractors and subcontractors to create a realistic schedule and estimate for the City."
As a result, Halbrook had both the skills and the confidence to succeed in city management. After getting his degree from Louisiana Tech, he worked briefly for the Houston Metroplex, designing and managing the construction of electrical infrastructure.
Halbrook's attachment to Louisiana Tech and a job opening with the City of Ruston led him back to his hometown, so that he and his wife, also a Tech alum, could raise their family in a place that was so important to them.
"Louisiana Tech has always had a special place in my heart. Because both of my parents are alumni, I grew up going to the games and rooting for the Bulldogs. I had the opportunity to go to a premier engineering school in my hometown, and I wanted to give back to the community.
"Working for the City of Ruston, I have the opportunity to help implement real change that benefits Tech's campus and the larger community. I'm grateful that the Construction Engineering Technology program provided those early experiences for me to build on."
Jeff Pike, senior lecturer in civil engineering and construction engineering technology, says that he's not surprised by Halbrook's success.
"Andrew is clearly committed to the success of the City of Ruston and Louisiana Tech University. As a student, Andrew brainstormed to create a way to overcome any challenge on his path to earn his degree. He brings the same determination to his professional life now."