Construction engineering technology students win design competition
What's the highlight of majoring in Construction Engineering Technology at Louisiana Tech University? Is it the many opportunities to work on projects outside of class? The family-like atmosphere? The professors who take an interest in helping students excel beyond the classroom? The collaborative processes in many of the classes?
According to Drew King (sophomore from West Monroe) and Kimberly Toth (junior from Dermott, Arkansas), winners of the program's 2019 T-Shirt Design Competition, Construction Engineering Technology, it's all of the above.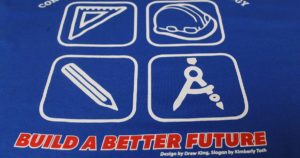 When King and Toth created designs for the competition, they pulled inspiration from their experiences within the program. King focused on the tools that Construction Engineering Technology students use in their work: a protractor, a hard hat, a pencil, and a precision compass, while Toth wanted to convey what she feels is the theme of the program: "Build a Better Future."
Both students are equally grateful for the award and excited about the Construction Engineering Technology program.
"A degree in Construction Engineering Technology gives me the tools I need to compete in a very demanding job market," King said. "It's a very hands-on degree, and that's one of the things I love about it. The other thing I love about the program is that the professors look out for students' best interests and give us chances to work on projects very similar to what we'll be doing after graduation. I'm proud to be a Bulldog, like my dad and grandmother."
"The Construction Engineering Technology program is a close-knit program," Toth added, "in that faculty know all our names, and understand our individual strengths and weaknesses. They try to actively prepare us for the future. Louisiana Tech gives me a sense of being at home. I couldn't picture myself going anywhere else.
"I feel like the goal of the CET program and of my peers, even alumni I've become friends with the hope that when we step foot off campus we're stepping with our best foot forward and that when we leave Tech we do 2 things: 1. Build a better future for ourselves and 2. Build a better future for our communities and hopefully putting our knowledge back into the program in some way."
King and Toth's design and slogan are featured on the official 2019-2020 Construction Engineering Technology T-shirts. The shirts are being given to every Construction Engineering Technology student, as well as faculty, staff, and advisory board members.
Mr. Reginald Jeter, program chair and professional in residence for civil engineering and construction engineering technology, says that he's proud to showcase the work the students have done.
"This competition shows what outstanding students we have in the College of Engineering and Science and in the Construction Engineering Technology program. The design and slogan that Drew and Kim came up with will help promote the program around campus and in areas that we may not think to recruit in."
If you would like to purchase a shirt, contact Sue Antony (santony@latech.edu).