Online Engineering and Technology Management and Industrial Engineering graduate degrees recognized as top programs in U.S.
Louisiana Tech University's Engineering and Technology Management and Industrial Engineering Master of Science degrees have been named as top online programs in the U.S. by Intelligent.com.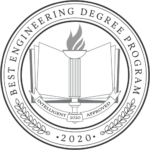 The Engineering and Technology Management program was ranked fourth in the "Best Online Engineering Management" category and received the "Best Public Research School" label.
The Industrial Engineering program was ranked No. 31 in the "Best Online Engineering Degree" category and labeled as a "Nationally Recognized" program. The Best Online Engineering Degree category includes all online engineering degrees offered in both graduate and undergraduate disciplines.
Intelligent.com used curriculum quality, graduation rate, reputation, and post-graduate employment data to evaluate programs at more than 1600 accredited colleges and universities across the nation. The resulting student-focused publication provides unbiased research to help students make informed decisions about higher education programs. The website offers curated guides which include the best degree programs as well as information about financial aid, internships and study strategies.
The 2020 rankings were calculated through a unique scoring system using student engagement, potential return on investment, and leading third-party evaluations. An algorithm collected and analyzed multiple rankings into one score so that potential students can easily compare each university's degree program.