COLLEGE OF ENGINEERING & SCIENCE
Chemistry at Louisiana Tech University
Who Are Chemists?
Forget what you've seen on TV about chemists. Although they often work behind the scenes, real-world chemists are heroes who help determine the atmospheric composition of planets, make nuclear waste storage safer, determine genome sequences, and even become patent attorneys, physicians, dentists, or pharmacists. If you have good problem-solving abilities, an attention to detail, and good math skills, chemistry might be right for you.
What Can Louisiana Tech Chemists Do?
Because of the career flexibility that a degree in chemistry provides, our alumni work in a variety of impactful, innovative, and inspiring careers. In many cases, they may earn more than $80,000 a year.
Our alumni work at chemical or petrochemical companies, government agencies, universities, and high schools. They use skills in toxicology, forensics, waste management, environmental safety, jet propulsion and energy, space research, medicine, and modeling and computation studies of atomic interactions, nanoparticles, and nanomaterials.
Many find success in graduate school and have earned advanced degrees at Louisiana State University, Purdue University, Texas A&M University, the University of Texas at Austin, the University of Connecticut, and the University of Southern California. Some are practicing physicians.
Required Courses
Mathematics
Pre-Calculus
Statistics
Calculus
Sciences
Physics and Lab
Biological Principals and Lab
Chemistry*
General Chemistry and Labs
Analytical Chemistry and Labs
Inorganic Chemistry and Labs
Organic Chemistry and Labs
Physical Chemistry and Labs
Organic Mechanisms
Biochemistry and Labs
Instrumental Chemistry and Labs
Chemical Literature
Senior Capstone Research
Advanced topics in Chemistry
*Some advanced science and math courses may be required in addition to those listed above and will vary depending on the track chosen and career interests of the student.
What Can Chemistry Students Expect at Louisiana Tech?
Our program will prepare you for a successful career in chemistry through structured immersion in both theory and interactive labs, which will equip you with the technical, critical thinking, research, and problem-solving skills needed in today's workplace.
Our instructors will take an interest in your education and help you get the hands-on experience that will make you stand out for the job market or on graduate school applications. In addition to classroom labs, you'll have opportunities to work with faculty on projects that have far-reaching impacts on medicine, manufacturing, energy, and nanotechnology.
Faculty will guide you as you tailor your curriculum to prepare for what you want to do next. You'll have a choice between a biochemistry track that will prepare you for medical, dental, pharmacological, or veterinary school or a traditional track that has been certified by the American Chemical Society. The traditional track will prepare you to attend graduate school, work in industry, or work for the government. The UTeachTech option available with the traditional track will provide you with the background to teach K-12 students.
Do You Like Science and Art?
Visual Integration of Science Through Art (VISTA) is an interdisciplinary minor at Louisiana Tech University that is coordinated through three colleges: the College of Engineering and Science, the College of Liberal Arts, and the College of Applied and Natural Science. VISTA prepares students for graduate school and careers in medical illustration.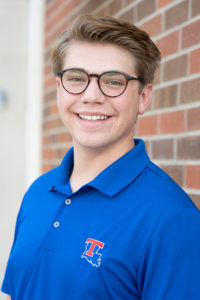 The Chemistry program at Louisiana Tech is such a tight-knit family! All the professors know the students' names and interests and are hands-on in ensuring that students learn and apply course materials. I can always rely on my classmates to help one another in the classroom and with extracurriculars. This program offers countless opportunities to students, from research endeavors to preparation for graduate and professional schools and future careers. Personally, I feel exceptionally prepared for veterinary school and a career in medicine thanks to all that I have learned from the extraordinary faculty, staff, and opportunities at Tech. Chemistry pushes me to perform better academically, professionally, and personally every day!
Undergraduate Studies Office: 318.257.2842
Follow Us on Instagram, Facebook, LinkedIn, and Twitter @LATechCOES and on YouTube @COESLouisianaTech.