COES Graduate Student Council
2019-2020 COES Graduate Student Council: L-R: Anik Karan (Treasurer), Chukwumaobim Nwokwu (Public Relations Officer), Jolin Rodrigues (President), Fraser Daniel (General Secretary), Kimlin Hall (COES Graduate Admissions and Enrollment Specialist), Dr. Collin Wick (Faculty advisor) and Hillary Husband (Vice-President)
The COES graduate council is a student body for the graduate students of the College of Engineering and Science, Louisiana Tech University. Graduate students within the College of Engineering and Science participate in research-heavy curricula, often earning fellowships, grants, and awards, as well as graduating with a portfolio of peer-reviewed publications. Highlights from the 2018-19 academic year are listed below.
2018 Graduate Research Symposium
COES Graduate Symposium 2018: Follow the Science to Tech It Higher
The Graduate Council organized the COES Graduate Symposium that was held on December 14, 2018, for graduate students to showcase their work for the entire University.
Graduate students within the College conduct a significant amount of research. This symposium offers a friendly platform to showcase Tech's quality research in engineering and science and present their latest data to receive feedback from peers and faculty. It included posters and oral sessions for Biology/Bioengineering, General Engineering, and Computing and Simulation with faculty judges selecting the best poster and best oral presentation in each category. The research was presented on computer simulation for the effect of aging, hydrogels for bacterial release, expansive soil models from all parts of Louisiana, hair care formulation (patent pending) and many others under the same roof. The best presenters in both poster and oral talk categories were rewarded with a Luncheon with President Dr. Les Guice. Through this lively and engaging event, the COES graduate student organization aimed to encourage collective research and draw the attention of the University to the path-breaking research that goes on right here, on campus.
Anusha Elumalai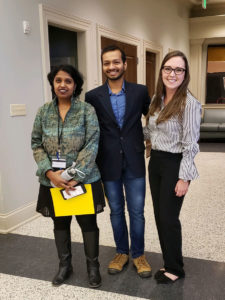 Strontium-coated clay nanoparticles for biomedical applications (Best Poster for Biology/Bioengineering)
Ashlesh Banjara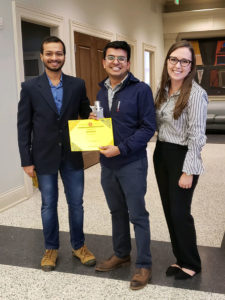 "Rapid Curing of Precast and Cast In-situ Green Concrete" (Best Poster, General Engineering)
Nishant Shakya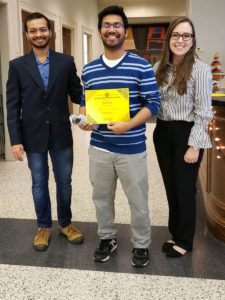 "On distributed computing with heterogenous communication constraints" (Best Poster, Computing and Simulation)
Chukwumaobim Nwokwu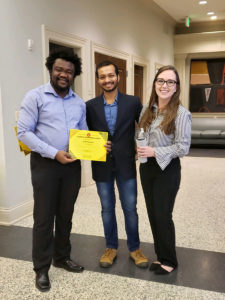 "Platform for Solid-based and Antigene-specific purification of exosomes" (Best Oral Presentation, Biology/Bioengineering)
Fraser Daniel
"Towards 3D printed sensors and actuators" (Best Oral Presentation, Computing and Simulation)
Fan Li
"Wireless Mapreduce Distributed Computing" (Best Oral Presentation, General Engineering)
Former Graduate Council President Jolin Rodriues performing at a fundraising event in early 2019
Graduate Student Council Social Chair Chukwumaobim Nwokwu in a play at the African Megafest 2019
Graduate Student Council Social Chair Chukwumaobim Nwokwu presenting mementos to Ruston Mayor Ronny Walker and Louisiana Tech University President Dr. Guice at the African Megafest 2019
Former Graduate Council President Jolin Rodriues performing at a fundraising event in early 2019
Graduate Student Council Social Chair Chukwumaobim Nwokwu in a play at the African Megafest 2019
Graduate Student Council Social Chair Chukwumaobim Nwokwu presenting mementos to Ruston Mayor Ronny Walker and Louisiana Tech University President Dr. Guice at the African Megafest 2019
College of Engineering and Science Events